You may remember a while ago I wrote about how a book got me through my sister's operation, which you can read all about here. That same post made its way to the eyes of Holly Smale, who's book All That Glitters helped me in that really tough time, and in response I was sent this lovely pack of Geek Girl related things, along with the 5th book, which is the one I'm reviewing now. So before I begin, here's a massive thank you to Holly and HarperCollins for their kindness and being absolutely amazing in sending me the next instalment in one of my favourite series!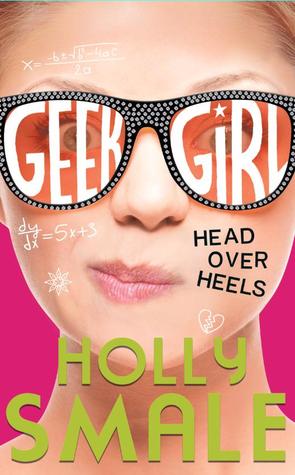 Title: Head Over Heels
Author: Holly Smale
Series: Geek Girl #5
Source: Publisher
Publisher:HarperCollins Children's Books
Published: April 7th 2016
No. of Pages: 416
"My name is Harriet Manners, and I will always be a geek."
The fifth book in the bestselling, award-winning GEEK GIRL series.
Harriet Manners knows almost every fact there is.
She knows duck-billed platypuses don't have stomachs.
She knows that fourteen squirrels were once detained as spies.
She knows only one flag in the world features a building.
And for once, Harriet knows exactly how her life should go. She's got it ALL planned out. So when love is in the air, Harriet is determined to Make Things Happen!
If only everyone else would stick to the script…
Has GEEK GIRL overstepped the mark, and is following the rules going to break hearts all over again?
-(Goodreads)
REVIEW
---
Reading another Geek Girl book is like returning to an old friend, and realising they are still just as funny and endearing as the last time you left them. The exotic locations, random facts and questionable lists are all part of the package; Wilbur's delicious assortment of nicknames is a given. Yet by Harriet Manner's fifth adventure, I still manage to gorge myself on the light but heart-warming hilarity of Smale's writing. This is a series unique unlike any other.
Perhaps there is something about the way each chapter promises a haphazard occurrence that makes
Head Over Heels
absolutely irresistible. You will sit and read for hours on end, because this is a page turner that captures you like the childhood stories of your favourite family member. Smale's writing is warm and will make you laugh a countless amount of times, and this is precious in the way it makes all her novels approachable and enticing. You want to be reading, not because of wicked suspense or high stakes, but because all of Harriet's awkward and clueless situations are absolutely charming, and you can't help but want to find out what she will stumble into next. There's a sense of comradeship that goes along with this novel too, and that will make you wince, burst into laughter or maybe even tear up a little as you keep flipping the pages. All together, it makes Geek Girl a formidable voice for the girls of today.
Underneath all the baby-meerkats and ex-stalkers, there is the much needed maturity which completes the package. Smale harbours no naivety in tackling the fashion world, making it very clear that no matter how hilarious or fun a photoshoot as Queen Elizabeth I may sound, the road as a model is covered in pot holes. She is sensitive in taking on the vulnerability of these models, both emotionally and physically, and she omits all the pink glitter often painted onto the fashion industry when presenting it to young teens. The modelling in Head Over Heels is unglamorously flashy; without losing all the excitement, it retains a solid dose of reality.
This applies not only to the modelling world, but the real world too. Throughout the series, Harriet has tackled problems with her friends, with her family and certainly with romance too. The latter was particularly resonant with me, because it defied a common theme in YA, which likes to see the protagonist find her soulmate and decide that she's destined to be with him for the rest of her life. Bearing in mind that this is often at the age of 17 and over the course of three novels, it can get a little tiresome and a lot unrealistic, although it's easy to overlook if you ship it. Yet Smale's novel accepts that you will have more than one significant other, and that break ups aren't the end of the world because you will move on from them. It's refreshing and most importantly real, because YA can be guilty of convincing young girls that their teenage boyfriend is the one.
If you're looking to pick up
Head Over Heels
, you will find yourself giggling over every moment and empathising with every situation. That's the power of Geek Girl's adventures; you find bits and pieces of yourself scattered in there, regardless of who you are.