You may remember a while ago I wrote about how a book got me through my sister's operation, which you can read all about here. That same post made its way to the eyes of Holly Smale, who's book All That Glitters helped me in that really tough time, and in response I was sent this lovely pack of Geek Girl related things, along with the 5th book, which is the one I'm reviewing now. So before I begin, here's a massive thank you to Holly and HarperCollins for their kindness and being absolutely amazing in sending me the next instalment in one of my favourite series!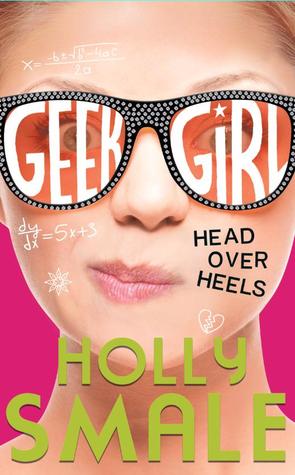 Title: Head Over Heels
Author: Holly Smale
Series: Geek Girl #5
Source: Publisher
Publisher:HarperCollins Children's Books
Published: April 7th 2016
No. of Pages: 416
"My name is Harriet Manners, and I will always be a geek."
The fifth book in the bestselling, award-winning GEEK GIRL series.
Harriet Manners knows almost every fact there is.
She knows duck-billed platypuses don't have stomachs.
She knows that fourteen squirrels were once detained as spies.
She knows only one flag in the world features a building.
And for once, Harriet knows exactly how her life should go. She's got it ALL planned out. So when love is in the air, Harriet is determined to Make Things Happen!
If only everyone else would stick to the script…
Has GEEK GIRL overstepped the mark, and is following the rules going to break hearts all over again?
-(Goodreads)