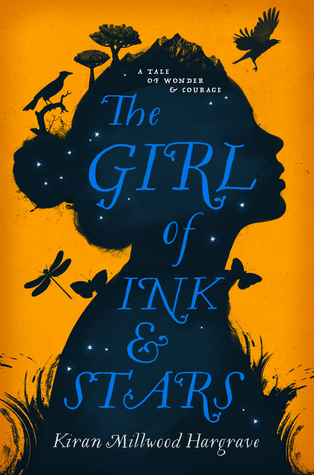 Title: The Girl of Ink and Stars
Author: Kiran Millwood Hargrave
Series: N/A
Publisher: Chicken House
Release Date: May 5th 2016
No. of Pages: 288
Forbidden to leave her island, Isabella Riosse dreams of the faraway lands her father once mapped.

When her closest friend disappears into the island's Forgotten Territories, she volunteers to guide the search. As a cartographer's daughter, she's equipped with elaborate ink maps and knowledge of the stars, and is eager to navigate the island's forgotten heart.

But the world beyond the walls is a monster-filled wasteland – and beneath the dry rivers and smoking mountains, a legendary fire demon is stirring from its sleep. Soon, following her map, her heart and an ancient myth, Isabella discovers the true end of her journey: to save the island itself.
-(Goodreads)
It's easy to see why The Girl of Ink and Stars has been earning praise and catching eyes: the children's fiction début of acclaimed poet Kiran Millwood Hargrave, it's a colourful and charming adventure. One of its best surprises was realizing less than twenty pages in that I'd love to see Millwood Hargrave to her talents to a novel for older teens, too: magical realism as pure and exciting as this is highly underrated in YA, and I think she could really pull off something special in the dark and delicate vein of Moira Fowley Doyle or Neil Gaiman.
Forbidden to leave her small village, Isabella dreams of exploring her island's unmapped heart. A dark shadow has fallen over the island, locking its magic and secrets away, but when that shadow claims those she holds most dear, Isabella sets out on a rescue mission which may change her world forever.
If you're looking for a heroine who'll jump right in to save her friends and loved ones, you've come to right place: Isabella is a girl with her eyes open wide to the world, longing to drink it in. She's brave, and her interest in map-making, as well as being useful in her quest, shows young readers that having a passion can lead to all kinds of adventures. In the US the book will be titled The Cartographer's Daughter, but I quite like that this title allows Isabella to stand on her own two feet.
There's an innocence and simplicity to The Girl of Ink and Stars which gives it a classic children's fiction feel. The book lifts the reader from the everyday into strange and lush surrounds almost as if we're being lifted out of time and space itself. After years subdued by the books villainous forces, the island of Joya explodes onto the page, as much a character as Isabella, her friends or her father. I particularly liked that it has its own origin story – myths, legends, fantastical creatures and adventures which populate the island's past, just as they do with real-world cultures and histories. It's playful but well-researched. There are caves and tunnels and beaches and mountains. The emphasis on nature and the wild is wonderful. Add in a bright cover and dozens of intricate designs brimming beneath the surface of the text and it's clear this book is intended to conjure a whole world from its pages.
As the story dives into loss and legend, trick and tenacity, the metaphors are sometimes too blunt, the symbolism too heavy-handed – like placing a great concrete tower block in the middle of a tropical paradise – but it's an otherwise easy read. The prose is descriptive but straightforward, the plot eventful but on the whole unchallenging. Older readers will see twists coming, but I liked that the book isn't pretending to be something it's not. This isn't children's fiction trying to be on-trend or MG marketed as YA. It's all about the adventure, and for that it may find its young audience enraptured. I can see it doing really well on library shelves and perhaps even as family reading. There are some serious moments but they're generally tame, more thought-provoking than terrifying. It's surprisingly short, but it's rich in colour and vivacity.
In short: Ideal for fans of Abi Elphinstone and Katherine Rundell, this début children's novel, while not perfect, conjures up a vivid adventure with a great setting.
---
Thank you to Arianne, who you can find over on Twitter @Ariannebooklove , for this brilliant review! You can also check out another review she contributed to in the past right here, or you can head over to the CONTRIBUTE page and share your story yourself!