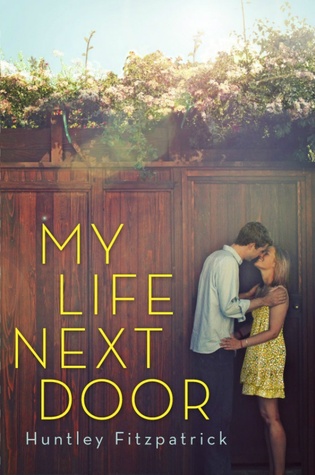 Title: My Life Next Door
Author: Huntley Fitzpatrick
Series: N/A
Source: Publisher* (Netgalley)
Publisher: Electric Monkey
Published: June 14th 2012
No. of Pages: 394

"One thing my mother never knew, and would disapprove of most of all, was that I watched the Garretts. All the time."
The Garretts are everything the Reeds are not. Loud, messy, affectionate. And every day from her rooftop perch, Samantha Reed wishes she was one of them . . . until one summer evening, Jase Garrett climbs up next to her and changes everything.
As the two fall fiercely for each other, stumbling through the awkwardness and awesomeness of first love, Jase's family embraces Samantha - even as she keeps him a secret from her own. Then something unthinkable happens, and the bottom drops out of Samantha's world. She's suddenly faced with an impossible decision. Which perfect family will save her? Or is it time she saved herself?
-(Goodreads)
4 STARS
My Life Next Door might just be the YA contemporary romance of all time, never mind the fact that I've been waiting to read it for years. Seriously, I remember wanting to read this book so badly from the moment I began blogging, but alas I did not read it till now. And yet I still absolutely loved it- that's go to be worth something, right!?
What I believe distinguishes this novel from all the other contemporary romances you normally read, is that it's simply so real. The romance is new and awkward and intoxicating and confusing all at once- just like it's meant to be. There is none of that whirlwind-fairytale tone so many books choose to take on. Instead My Life Next Door takes on the raw emotions of real relationships, and celebrates them for what they are: the feelings which make life the roller coaster that it is. Undeniably, this means Jase and Sam have to be one of my favourite YA couples, because Fitzpatrick brings them to life as easily as she crafts her story.
Another of my favourite aspects of this book is how much it centres on family, and just how different that concept can be for different people. Sam and Jase come from wildly different families. Sam's is what can only be described as clinical; a perfectly poised family photo in a squeaky clean frame, but completely void of emotion. Jase on the other hand, is my kind of family dynamic; bursts of colour, noise and a whole lot of love. Far from the next first family they may be, but they are happy and they love each other a lot. Both families are complete contrasts, but from that comes an important statement. From my point of view, Jase's family, is the perfect family because they weren't perfect. They didn't try to be, because they didn't need to- all they needed was themselves, and I believe that's a beautiful message. Sam's mum was constantly caught up trying to be someone else, and in doing so she lost everything that had made them a family.
The final theme that Fitzpatrick touched upon wonderfully had to be that of loyalty. The age old question behind the statement "Blood is thicker than Water" is often left for the fantasy books to deal with, but this time Sam was the one faced with a harrowing decision. It's honestly horrible watching her have to decide what to do, especially when you know someone will end up hurt in the process, but I know I had no doubt relating to what I felt what was right, and I think that is down to Fitzpatrick's ability to create characters who you will root for until the novel ends. Sam is forced to make a decision, as we all are, but what I appreciated the most was the time taken to show the struggle leading to that choice, to really reflect on how hard it is. That is most definitely something which shouldn't be downplayed.
My Life Next Door is essentially the contemporary romance for those who have just begun reading the genre, and for those who consider themselves seasoned pros. It's for everyone really, and I seriously recommend you jump at the chance to read it whenever you can.
---
*Thank you to the publishers for a review copy of this book. As always, this does not affect my opinions in anyway at all.