Sorry for the long absence, but as I warned I'm having a year filled to the brim with exams and I've spent most of January studying for them or doing them, so it's been very hard to find time to blog. As promised however, I will pop up with something new as often as I can!
Today in even better news, we have our first contributor of the year: Arianne! Woo! This lovely girly is here to review Beautiful Broken Things by Sara Barnard, a book which after reading Arianne's review I know I must get my hands on! Enjoy! If you'd like to be a contributor please email me on the Contact Me page!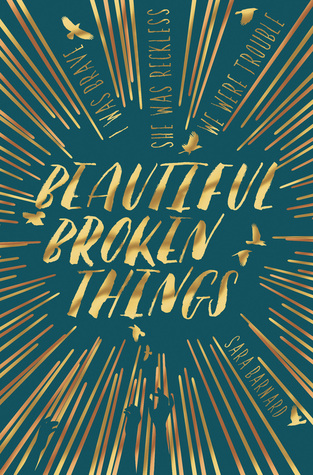 Title: Beautiful Broken Things
Author: Sara Barnard
Series: N/A
Publisher: Macmillan Children's Books
Published: February 11th 2016
No. of Pages: 322
I was brave
She was reckless
We were trouble
Best friends Caddy and Rosie are inseparable. Their differences have brought them closer, but as she turns sixteen Caddy begins to wish she could be a bit more like Rosie – confident, funny and interesting. Then Suzanne comes into their lives: beautiful, damaged, exciting and mysterious, and things get a whole lot more complicated. As Suzanne's past is revealed and her present begins to unravel, Caddy begins to see how much fun a little trouble can be. But the course of both friendship and recovery is rougher than either girl realises, and Caddy is about to learn that downward spirals have a momentum of their own.
-(
Goodreads.

)
4.5 stars: Page agrees this book was wonderful, almost
Quiet, clever Caddy longs for some exciting experience to make her teenage years more interesting, but she is about to learn that Significant Life Events come in all shapes and sizes. Sometimes, the most significant thing in life can simply be a girl who needs a friend, and those courageous – or foolish - enough to love her.
Authentic, heart-shattering and disarming, Beautiful Broken Things is as happy and sad, as laugh-out-loud funny as it is utterly bittersweet. Its prose is simple, straightforward and incredibly cinematic. I liked that it's set in Brighton - I'm always looking for more UKYA set outside of London - and while there aren't many twists as such, for a contemporary novel there's some incredibly intense drama. Sara Barnard writes with the confidence of a storyteller who has all the world to give. Reading this book, the YA world feels just a little bit brighter, just a little bit more accomplished, for having her in it. Beautiful Broken Things is full of emerging grace and unexpected warmth; it leaves you longing to discover what kind of story Barnard will choose to tell next. Her talent flourishes under the pen, and her ode to the love and care teenage girls can have for their friends is one that will have pride of place on my shelves.
Barnard pours the passion and intensity of teenage friendship into the heart of her début. I loved Caddy and Rosie: they orbit around each other, but suddenly faced with the prospect of losing each other, their faults and complexities are palpable. Rosie is exuberant but flippant, taking her friends for granted. Caddy is loyal and kind, but about to learn the hard way that the only people who wish trauma on themselves are those who have never experienced it. Suzanne was more of a surprise. She is chaotic and hurting and human and fierce. I didn't expect to like her as much as I did; she falters, she struggles, she lashes out, she hurts others. It's not pretty or elegant or tragic. It's agony, a crushingly real pain. In a world which pulls teenage girls this way and that - telling them how to be, how to be convenient, how to fit in - the very fact that Suzanne gets to feel and be furious is amazing. She is not here for your entertainment. She is the pulsing, powerful emotional core of the book.
It's testament to Barnard's incredible skill that by the time I'd turned the last page, I couldn't pick a favourite; there are parts of all of us in these heroines, and while Caddy may just have edged it for me since then, they are all complicated, flawed, and fabulous in their own ways. They make so many mistakes, they even say awful things to each other, but this is a story of being carved out, of having to fall flat on your face before you can find your feet. I would've liked to see them have more positive experiences together before the drama kicked in, but this is love-you-even-when-you're-hungover, fight-for-you-when-you're-down, send-you-sunflowers-you-when-you're-sad, celebrate-your-very-existence best friendship, and it makes a glorious case for focus on real, messy, caring female friendships in YA. I'd love to see more teen fiction do justice to the intricacies of teen girl friendship the way Beautiful Broken Things does.
Perfect for fans of Holly Bourne, Sarah Dessen and Jaclyn Moriarty, this is a book which takes pleasure in the little details: in small joys, in sunflowers, in baking, in hilarious (realistic, and occasionally drunken) texts. There are, of course, some rookie mistakes: tell instead of show is a particular problem in early chapters, and there are scenes, storylines and reactions which could have been handled better. Some of the characters are dreadful people; some of them for being complicit or impassive in horrific situations, others because they're just plain awful. It is by no means an easy read, but its dark scenes and tough themes are tackled honestly and courageously. I loved that the characters do ordinary things: they go to school, do homework, drink milkshakes. Read enough epic fantasy and it'll have you convinced that Significant Life Events only appear by smacking you in the face with unlikely quests, lilac-lashed love interests and enough expensive hair mousse to power a small country, but this book is a reminder that ordinary and extraordinary are not mutually exclusive.
In short:
Swift, sharp and bittersweet, Beautiful Broken Things is one of those stories that sneaks up on you and finds its way into your heart. Armed with a penchant for incredible warmth, intense drama and fabulously down-to-earth writing, Sara Barnard makes it clear that this contemporary doesn't have to be sugar-coated to be sweet, and that some stories don't have to have a romance to be about love.