Hello Everyone!
As part of Feminist Fiction, my new review category for books with feminist subjects, I'm reviewing 99 Days by Katie Cotugno. The subject: slut-shaming.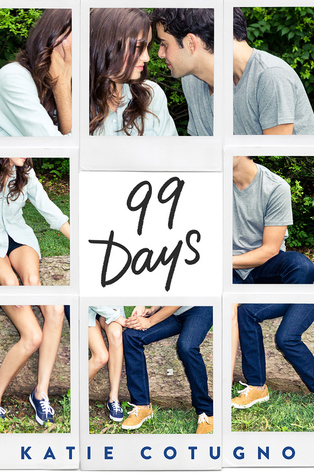 Title: 99 Days
Author: Katie Cotugno
Series: N/A
Source: Publisher (Edelweiss)
Publisher: HarperTeen
Release Date: April 21st 2015
No. of Pages: 384
Day 1: Julia Donnelly eggs my house my first night back in Star Lake, and that's how I know everyone still remembers everything—how I destroyed my relationship with Patrick the night everything happened with his brother, Gabe. How I wrecked their whole family. Now I'm serving out my summer like a jail sentence: Just ninety-nine days till I can leave for college, and be done.
Day 4: A nasty note on my windshield makes it clear Julia isn't finished. I'm expecting a fight when someone taps me on the shoulder, but it's just Gabe, home from college and actually happy to see me. "For what it's worth, Molly Barlow," he says, "I'm really glad you're back."
Day 12: Gabe got me to come to this party, and I'm actually having fun. I think he's about to kiss me—and that's when I see Patrick. My Patrick, who's supposed to be clear across the country. My Patrick, who's never going to forgive me.
-(Goodreads)
3.5 stars: Page thinks this book was good, but didn't
If you're getting bored of the traditional YA contemporary romance novels out there, 99 Days is a must read. It's not so much a love story, as a social commentary about our perceptions of relationships, especially relating to gender. Long story short, it's about a girl, Molly, who 'cheats' on Patrick with his brother, Gabe. You don't exactly get a worse situation that that I'll admit, but it does result in a very interesting storyline that brings up a lot of questions. Personally, I love books that challenge us with situations (that may make us uncomfortable but that can be incredible teachers) even if this wasn't my favourite novel.
As Molly lives through her 99 Days, I find myself sympathising with how harshly she's treated, especially as the more she describes her relationship with Patrick, the more I find I dislike it. It's suffocating, almost claustrophobic as they spend every Friday night holed away. The more I find out about it, the more I see beyond the label that Molly cheated on Patrick. The more I see an unhealthy relationship that was isolating both of them from other people. Inevitably, it made actually really like Gabe, who was the opposite of Patrick's way of seclusion, but I had an uneasy feeling this book wouldn't be as simple as a fairytale ending...
Though I didn't particularly empathise with Molly, I did constantly feel terrible for the way she was shamed and treated by others. It's a hard feeling to keep as she repeats her own mistakes, but I stand by the fact the way she is treated is horrific. Yet it makes such a brilliant feminist point that it must be applauded:
Why is Molly treated as an object two brothers can fight over? She's constantly objectified by others who treat her as though she should be a belonging and who then hate it when she chooses that is not what she wants. The worse comes from those who treat Gabe like a saint, and yet call Molly a torrent of names: whore, slut, tramp. The list goes on. And why? It's the same reason we call boys players and girls sluts. Because while a man can happily sleep with as many people as he wants and be turned into a hero, a woman can do the same and she is dirty. She deserves it. She is no longer a human, and so people see it as an excuse to treat her however they like. To make it worse, it's not even the men of the novel doing this (Although Patrick played enough of a part to make me want to give him a lecture on Feminism 101) it's the women. It's the girls in the novel who slut-shame each other, who degrade each other and blindly make things worse for their own gender.
This is a serious problem in today's world, where the simple act of branding girls this ways propels us backwards from all we've worked for. So thank you to Katie Cotugno for making this point in her novel: the world needs it.