Hello Everyone!

I received this book for review via Netgalley from the lovely Pan Macmillan, so thank you to them for allowing me to review this!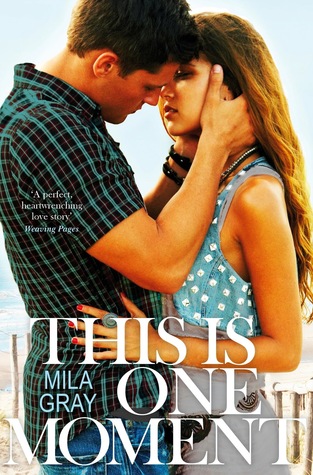 Title: This is One Moment
Author: Mila Gray
Series: Come Back to Me #2
Source: Publisher
Publisher: Pan Macmillan
Published: 6th August 2015
A forbidden romance. A wounded Marine who thinks he's beyond saving. A girl who's determined to prove him wrong.
Didi Monroe's waited her whole life for the type of romance you see in the movies, so when Hollywood heartthrob Zac Ridgemont sweeps her off her feet, Didi believes she might finally have met the one.
While Zac's away filming for the summer, Didi begins her internship at a military hospital in California. There, she meets wounded Marine Noel Walker. Frustrated on the outside and broken on the inside, Walker's a pain-in-the-ass patient who refuses all help. Yet Didi can't help but be drawn to him, and though he's strictly out of bounds it soon becomes impossible to ignore the sparks flying between them.
As the attraction simmers into dangerous territory, Didi finds herself falling hard for a man she knows is going to break her heart. Because Walker doesn't believe in love or happy ever afters. So what possible future can there be? Then tragedy hits, shattering both their worlds, and Didi is forced to choose between fighting for love or merely falling for the illusion of it.
-(Goodreads)
4 stars: Page decides that this book was very enjoyable
After really enjoying Come Back To Me, I was really excited to find out that Mila Gray (Sarah Alderson) was going to be writing a sequel, this time featuring Jessa's best friend Didi. When I got the chance to interview Sarah, it was safe to say I couldn't wait to read it, and I'm finally sharing with you exactly why you should pick this book up- because you really should!
If you're a fan of Young Adult romances and you've never tried New Adult, I would definitely direct you towards this series. I think Alderson perfectly balances the romance with the frustrations of real life, as well as giving it an actual storyline, so the story isn't just focused on the two lovers. Instead, setting out the whole world and challenged these characters are facing means you are so much more emotionally invested in them, and you really want a 'Happy Ending' badly! Sometimes romances are written without this emotion, and for me it just makes them flop completely as I can't bring myself to root for the characters. Sarah Alderson avoids this completely, however, and it makes for a compelling, heart-felt story.
I really appreciated the noticeable research that had gone into this story, too. With it being set in a rehabilitation centre for wounded veterans, it's not a setting or a subject to be written about haphazardly, but Alderson delivered a detailed, realistic idea of what day to day life was like for those who were there. This also helped the characters emotionally, because through the different characters that appeared you could see just how differently each person was dealing with the trauma they had experienced, even though they were all in the same space. Some hated the ridiculous 'Be Happy' posters, and others found solace in painting, and some found solace in others, but this book really captured the multitude of emotions that everyone was undergoing.
One of my favourite parts of the book was the characters, though. Specifically, it was Sanchez and his wife Valentina because, despite the injuries he had suffered, I could always rely on him to be positive and make me laugh. Valentina was also hilarious, in between the food, trying to set everyone up with her cousin Angela and generally just being her. They were my favourite couple of the book, even though Didi and Walker were amazing too. Sorry Guys!! For me, Sanchez just brought some real lightness to the story, inspiring those around him to try and see the good in their situation. Sure, they may not be okay, emotionally or physically, but they are alive- and a lot of other people weren't that lucky. You go Sanchez!
If you like This is One Moment, go and try:
- The Host by Stephanie Meyer
- Me Before You by Jojo Moyes