Hello Everyone!!

I received this book from the lovely people at Bloomsbury, so thank you to them for running the awesome competition! Queen of Shadows has a prize place on my bookshelf.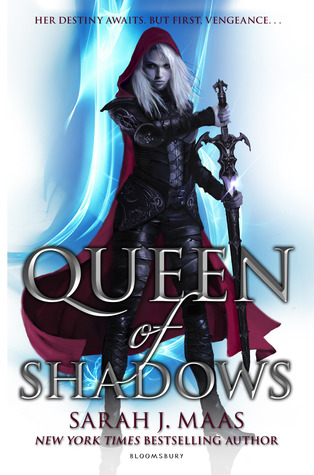 Title: Queen of Shadows
Author: Sarah J Maas
Series: Throne of Glass #4
Source: Publisher
Publisher: Bloomsbury UK
Published: September 1st 2015
No. of Pages: 645
Everyone Celaena Sardothien loves has been taken from her. But she's at last returned to the empire—for vengeance, to rescue her once-glorious kingdom, and to confront the shadows of her past . . .
She will fight for her cousin, a warrior prepared to die just to see her again. She will fight for her friend, a young man trapped in an unspeakable prison. And she will fight for her people, enslaved to a brutal king and awaiting their lost queen's triumphant return.
Celaena's epic journey has captured the hearts and imaginations of millions across the globe. This fourth volume will hold readers rapt as Celaena's story builds to a passionate, agonizing crescendo that might just shatter her world.
-(Goodreads)
5 stars: Page the bird salutes this book, and starts
Queen of Shadows might just be the book of the year. To be honest, that's pretty much an understatement, because if this book doesn't make headlines and isn't at the top of every single list, I have no idea what will be, since every page of this book could have dissolved me into tears due to the sheer epic story.
The first thing that you need to know is that Sarah J Maas' writing drips gold. Not a single word is wasted and not a single chapter fails to leave you with some heart-shattering moment that you never want to forget. I could immerse myself in the characters, the world-building and the indulgent writing forever and never get bored of it. There are books that as you read them, you can't help but marvel at the fact someone sat for months on end writing them until each one painted a picture in a way brushes and paint never would. This is that kind of book, and I just want to sit in awe at its contents.
Now, if you haven't read the previous books, be warned it will get spoilery ahead. But... if you haven't read the previous books... WHAT ARE YOU DOING? Shoo! Go! Go read them now!
What I need to say, is that I have never loved Aelin's character as much as I did in Queen of Shadows. To be honest, I loved all the characters a thousand times more in this novel. Rowan was revealed to be much more caring than he would ever admit to being, and I have a new OTP. Yes, that is Aelin and Rowan, but also Manon Blackbeak (which I can't wait to discover what she does next, she became a favourite very quickly!) and Dorian NEED to happen! I just know that Manon is going to be essential in the story from now on, and I'm so excited about it- her and Aelin would make a formidable pair, and her character was slightly ambiguous in the last book so her role was made massively more interesting this time round. Lysandra was another addition to the Aelin squad who had me rooting for her the whole way through. She was such a raw, selfless character that made me cry several times, plus her new friendship with Aelin gave me all the feels in the things they do for each other and those they love.
Aelin was pure inspiration. That's all I need to say really. I felt that in this book, it was so clear how much she had changed and developed from the first book, especially as she is no longer just an assassin but a fighter, a queen. So not only is this book chock full of beautiful quotes, but it is also filled with characters who make you want to seize the world and win at life. And when I finished the story it's exactly what I want to do: rattle the stars.
Sarah J Maas also deserves great praise for how beautifully entwined her entire series and story is. It results in an intricate masterpiece that you get wrapped in so easy, but to make it even better is the way each book continues seamlessly from the last. You'll be pleasantly, and unpleasantly surprised with appearance of characters you may not have thought of for a while, that's for certain. Also remember to take note of every single little thing that happens because, like I said, no word is ever wasted. It always means something, and I really value that in a story, because it makes the huge dedication author's have to their books even clearer.
If you like Queen of Shadows, try:
- Snow Like Ashes by Sara Rasch
-A Court of Thorns and Roses by Sarah J Maas
-The Darkest Part of the Forest by Holly Black