Hi Lovelies!
I was given this book for review from the lovely people at HarperTeen, so thank you to them for allowing me to review this brilliant sequel!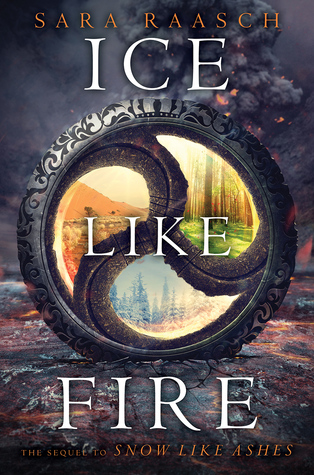 Title: Ice Like Fire
Author: Sara Raasch
Series: Snow Like Ashes #2
Source: Publisher (Edelweiss)
Publisher: HarperTeen
Release Date: October 13th 2015
No. of Pages: 479
It's been three months since the Winterians were freed and Spring's king, Angra, disappeared—thanks largely to the help of Cordell.
Meira just wants her people to be safe. When Cordellan debt forces the Winterians to dig their mines for payment, they unearth something powerful and possibly dangerous: Primoria's lost chasm of magic. Theron sees this find as an opportunity—with this much magic, the world can finally stand against threats like Angra. But Meira fears the danger the chasm poses—the last time the world had access to so much magic, it spawned the Decay. So when the king of Cordell orders the two on a mission across the kingdoms of Primoria to discover the chasm's secrets, Meira plans to use the trip to garner support to keep the chasm shut and Winter safe—even if it means clashing with Theron. But can she do so without endangering the people she loves?
Mather just wants to be free. The horrors inflicted on the Winterians hang fresh and raw in Januari—leaving Winter vulnerable to Cordell's growing oppression. When Meira leaves to search for allies, he decides to take Winter's security into his own hands. Can he rebuild his broken kingdom and protect them from new threats?
As the web of power and deception weaves tighter, Theron fights for magic, Mather fights for freedom—and Meira starts to wonder if she should be fighting not just for Winter, but for the world.
-(Goodreads)
4 stars: Page decides that this book was very enjoyable
however, it was not catapulted into amazing.
Ooooh, the FEELS. Seriously, you cannot believe how many times I died whilst reading this... You really are in for a ride, because not only will your heart break in two but you'll finish with a huge book hangover. In short: this is an Epic Sequel.
Returning to this world was a brilliant feeling, and I loved revisiting the characters I had rooted for throughout the first novel. One of my favourite things about Ice Like Fire's storyline was how much more of the world I was introduced too. Not only did this bring some absolutely brilliant characters into play, but seeing the other kingdoms was magic in itself. Just to warn you, not all the rulers are as badass and willing to save you as Meira is... Despite this, I loved the attention Raasch paid to crafting the culture that belonged to each court, making each one as deadly and colourful as the last. The rulers also showcased a variety of personalities, and I quickly learned who to love and who to run far, far away from. I don't think the circumstances in the next book will be pretty exactly... There is danger ahead ehehehe...
I particularly enjoyed seeing Meira adapt to her new role and world, because it had essentially changed so much from what she was used to. This was a central theme throughout the book, as Meira struggled with the person she was and the person she felt she should be. It led to quite a lot of confusion and angst, but I felt this book was essential for the development of Meira's character. She learned that just because her role has changed, it didn't mean she had to change completely herself. There is not a single mould for a 'perfect queen' and Meira discovered this throughout the course of her story. The best thing she could do for her people was stay true to herself- that was how she had freed them in the first place, and now it should be no different!
There is a lot of pain for all you shippers ahead, depending on which ship you were investing your heart in! All I can say is I cried. A lot. Though I knew it was coming, it was completely heart-breaking and I'm not sure I will be the same as I read the third book. Yes, it affected me that much!
Ice Like Fire was a reminder that Meira's adventures have some hard challenged ahead, and you need to steel yourself for the epicness that I'm sure the conclusion will be! If this sequel is anything to go by, your feelings are not safe! Do yourself a favour and read this book as soon as possible, that way you can give yourself time to anticipate all the upcoming magic!
If you like Ice Like Fire, you have to try:
-Heir of Fire by Sarah J Maas
-A Game of Thrones by George R. R. Martin