Hello Everyone!

I received this book from the publisher via Netgalley, so thank you to the lovely people at Hodder & Stoughton for allowing me to review it!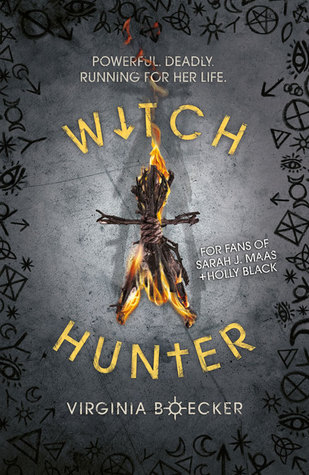 Title: Witch Hunter
Author: Virginia Boecker
Series: The Witch Hunter #1
Source: Publisher
Publisher: Hodder & Stoughton
Release Date: September 1st 2015
No. of Pages: 409
Sixteen-year-old Elizabeth Grey doesn't look dangerous. A tiny, blonde, wisp of a girl shouldn't know how to poison a wizard and make it look like an accident. Or take out ten necromancers with a single sword and a bag of salt. Or kill a man using only her thumb. But things are not always as they appear. Elizabeth is one of the best witch hunters in Anglia and a member of the king's elite guard, devoted to rooting out witchcraft and bringing those who practice it to justice. And in Anglia, the price of justice is high: death by burning.
When Elizabeth is accused of being a witch herself, she's arrested and thrown in prison. The king declares her a traitor and her life is all but forfeit. With just hours before she's to die at the stake, Elizabeth gets a visitor - Nicholas Perevil, the most powerful wizard in Anglia. He offers her a deal: he will free her from prison and save her from execution if she will track down the wizard who laid a deadly curse on him.
As Elizabeth uncovers the horrifying facts about Nicholas's curse and the unwitting role she played in its creation, she is forced to redefine the differences between right and wrong, friends and enemies, love and hate... and life and death.
(-Goodreads)
3 stars: Page tweets once, he didn't have strong
feelings for this book. It was just ok.
After reading hoards of contemporary novels lately, I decided it would be a good idea to venture into a fantasy world for a while. This came in the form of Witch Hunter, which I don't deny was a very good adventure. I read it in around a day, which is saying something since I haven't read a book this quickly in AGES. For that it does get a good amount of Brownie Points.
I easily got into Elizabeth's story, finding it to be quite simple and easy to follow. I wasn't that amazed by the plot, I have to say, because I felt like I already knew what was going to happen and that nothing could easily surprise me. Due to that, I found myself looking forward to seeing what relationships would occur between the characters, which would greatly compliment the typical storyline I was following.
I don't really feel like I was given what I was looking for, however. I didn't empathise with any of the characters really, and I was not at all into the romance. In fact, I think the one relationship I may have been happy with had the worst chance of happening ever. When I think about it now, I did not feel they were realistic at all either, especially in their reactions to finding out Elizabeth was a Witch Hunter which they got over pretty quickly after being meant to be sworn enemies.
We also had the typical in-love-with-my-best-friend situation which was not convincing at all. To be honest, I'm never that convinced by the best friend the protagonist is always in love with, especially in fantasy/dystopian books and always seem to adore the other guy… That always works out badly for me. Yet in this case, I didn't like either of them, which wasn't too fun.
In short, I wouldn't read this if you're looking for a book to give the highest placement on your shelf. It's more the kind of book you read when you're in desperate need of reading all the fantasy stories you can get your hands on. This story does do a good job of satisfying that.