Hiya!
Today Sarah Alderson who you may know as Mila Gray is joining us on the blog to talk about her new book This is One Moment. Before we get onto the interview, you should probably take a moment to marvel at the gorgeous cover. Don't you love it? I also thought I'd say a quick thank you to Sarah and the team behind this for quoting me on the cover! I swear I almost fell over when I saw it ;)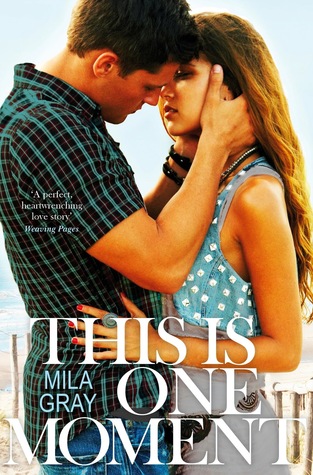 Title: This is One Moment
Author: Mila Gray
Series: Come Back to Me #2
Source: Publisher
Publisher: Pan Macmillan
Published: 6th August 2015
A forbidden romance. A wounded Marine who thinks he's beyond saving. A girl who's determined to prove him wrong.
Didi Monroe's waited her whole life for the type of romance you see in the movies, so when Hollywood heartthrob Zac Ridgemont sweeps her off her feet, Didi believes she might finally have met the one.
While Zac's away filming for the summer, Didi begins her internship at a military hospital in California. There, she meets wounded Marine Noel Walker. Frustrated on the outside and broken on the inside, Walker's a pain-in-the-ass patient who refuses all help. Yet Didi can't help but be drawn to him, and though he's strictly out of bounds it soon becomes impossible to ignore the sparks flying between them.
As the attraction simmers into dangerous territory, Didi finds herself falling hard for a man she knows is going to break her heart. Because Walker doesn't believe in love or happy ever afters. So what possible future can there be? Then tragedy hits, shattering both their worlds, and Didi is forced to choose between fighting for love or merely falling for the illusion of it.
1. Hi Sarah! Thank you for coming on the blog again! I'm so excited for This is One Moment to be released (The cover is gorgeous too!) so can you tell me a little about it and what it was like writing it?
Thanks so much for having me. After I wrote Come Back To Me I knew I wanted to revisit that world and while I didn't want to write a sequel I was excited to write a story from Didi's point of view (she's a minor character in Come Back To Me). In This Is One Moment Didi is working on her PhD at a military rehab hospital and it's there that she falls for a moody, gruff wounded Marine called Walker. It's quite a heartbreaking read and tackles some issues that I think should be talked about more - namely the sacrifice soldiers make and the issues that vets face.
I wrote it very fast (I had a very tight deadline) and so I went to India on my own for 8 days and wrote about 40,000 words in that time.
2. Were you excited to revisit your characters from Come Back To Me in This is One Moment?
I was but it was tricky as I didn't want to include any spoilers so I very purposely kept a lot of the characters out of this book and made references ambiguous. But Jessa does appear a few times and one of my favourite characters, Kit's dad, the chaplain, is back dishing out his down to earth wisdom.
3. Do you have a favourite part in this book?
I think my favourite character is Sanchez, who was in the unit that Walker was leading. He's had major trauma and loss of limbs but he's such a joy and so full of life that I often think of him as a real person. Him and his wife were some of my favourite characters ever to write.
4. I was instantly interested by the fact that Didi is working in a military hospital. Did you have to put a lot of research in bringing this to life, or was it an aspect of the story that just 'clicked'?
I did do a lot of research actually. The centre is based on a real one and I did a lot of research into post traumatic stress, rehabilitation and psychology. In my past life working for a charity I set up a project that worked with ex-soldiers so I was already aware of a lot of the issues that face ex-servicemen in terms of depression and higher rates of alcoholism.
5. How was writing This is One Moment different from your experience with writing Come Back To Me?
They were fairly similar and for this book I felt like I already had my main character and the world mapped out. It's a world I also know from my YA Hunting Lila series. Come Back To Me was my first non thriller adult novel after writing 8 YA thrillers so it was a real step change for me, but knowing I was capable and that Come Back To Me had been so popular definitely helped.
6. On a scale of 1-10, how excited should we be for any of your upcoming projects?!
Ahhhh I think 10. It depends if you read my YA books as well. The journey to making the movie of Hunting Lila has been so long, almost four years already and we're so close. It could all fall apart obviously but we're starting to cast and we have a great director and it is looking more and more hopeful. I'm keeping everything crossed.
Besides that another of my YA books, The Sound, about a British girl who nannies on the island of Nantucket for a summer, is in development with a major British broadcaster and I'm so excited about that.
Thank you so much for the interview, Sarah! It's always a pleasure to have you on the blog! If you haven't read Come Back To Me yet, then what are you doing?! Take a peek at my other interview with Sarah or my review of the book here. You're in luck because there is also a giveaway for you to enter! All you have to do is fill out the rafflecopter form below- Good Luck!