Hello Everyone!

I received this book for review via Edelweiss from the lovely HarperTeen, so thank you to them for allowing me to review this!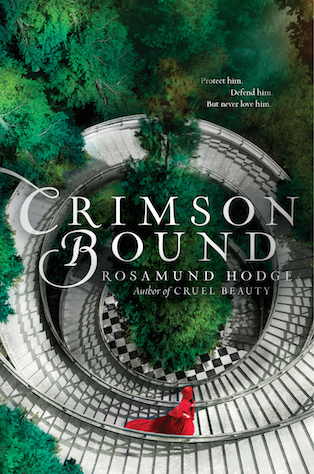 Title: Crimson Bound
Author: Rosamund Hodge
Series: N/A
Source: Publisher (Edelweiss)
Publisher: HarperTeen
Published: May 5th 2015
No. of Pages: 448

When Rachelle was fifteen she was good—apprenticed to her aunt and in training to protect her village from dark magic. But she was also reckless— straying from the forest path in search of a way to free her world from the threat of eternal darkness. After an illicit meeting goes dreadfully wrong, Rachelle is forced to make a terrible choice that binds her to the very evil she had hoped to defeat.
Three years later, Rachelle has given her life to serving the realm, fighting deadly creatures in an effort to atone. When the king orders her to guard his son Armand—the man she hates most—Rachelle forces Armand to help her find the legendary sword that might save their world. As the two become unexpected allies, they uncover far-reaching conspiracies, hidden magic, and a love that may be their undoing. In a palace built on unbelievable wealth and dangerous secrets, can Rachelle discover the truth and stop the fall of endless night?
Inspired by the classic fairy tale Little Red Riding Hood, Crimson Bound is an exhilarating tale of darkness, love, and redemption.
-(Goodreads)
I went into Crimson Bound with some good expectations-
after all
, Hodge's previous book Cruel Beauty had completely exceeded my expectations, so when I heard there would be a sequel I jumped at the chance to read it.
Subsequently, Crimson Bound was just as good as its
predecessor
. Set in the same world but with completely different characters, Hodge as always succeeds in making once innocent fairytales as dark and gothic as they come. Her stories are always exciting to delve into, because everything has the potential to be completely turned on its head. As I followed Rachelle throughout her story, this was certainly true. Hodge crafts her own world and stories that only whisper of the fairytales they were inspired from- everything else is new, dangerous and exciting. Personally, I absolutely adored the story of Tyr and Ziza that shaped the plot and was told between each chapter. That itself was a brilliant portrayal of how twisted these heroic acts can be. That's what I love about Hodge's stories; they're not shiny and glossy, but instead they tell of those times where no one can longer be named good or bad.
I also love Hodge's characters, such as Rachelle, for you often find them at a time where they have resigned themselves to a dark and terrible fate. That makes them surprisingly unrestrained for they no longer worry about the future or about meaningless things. You see them at their rawest and darkest point, which always allows for the story to snake away in several different directions.
The only thing I wish could have been different was the romance. When reading Cruel Beauty, I remember becoming really invested in what would come of the romance. In Crimson Bound however, I was forced to come to terms with the fact I had hedged my bets on the worst person imaginable, which of course did no wonders for my ships, as you can tell. Otherwise, I would have put Caps Lock into action a long time ago, eheheh.
In short, I absolutely recommend you check out Hodge's novels, especially if you're a fan of Gothic fairytales and fantasy. If you're not, these books are also a great place to start from.