Hello!
I finally read this!! YYYAYYY! Yet all my mind can process is that a) I need an Etienne and b) why did I not read this sooner?!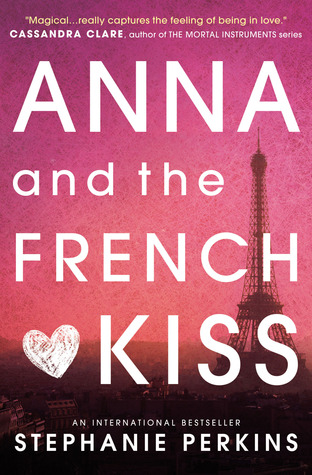 Title: Anna and the French Kiss
Author: Stephanie Perkins
Series: Anna and the French Kiss #1
Source: Bought
Publisher: Usborne Publishing
Published: December 2nd 2010
No. of Pages: 400
Anna has everything figured out - she was about to start senior year with her best friend, she had a great weekend job, and her huge work crush looked as if it might finally be going somewhere... Until her dad decides to send her 4383 miles away to Paris. On her own.
But despite not speaking a word of French, Anna finds herself making new friends, including Etienne, the smart, beautiful boy from the floor above. But he's taken – and Anna might be too. Will a year of romantic near-missed end with the French kiss she's been waiting for?
-(Goodreads)
5 stars: Page the bird salutes this book, and starts
Anna and the French Kiss is like a perfect modern fairytale, except it doesn't forget that falling in love requires more than one true loves kiss. Or two. It's a story that remembers the moments where you crash and burn along with the ones that make your stomach flip with glee, without sinking into a pit of cliche doomed/forbidden love. The end result makes you root for Anna and Etienne whilst also giving you an undeniable urge to squeeze the living daylights out of such a delightful story. But you resist, because that cover it too gorgeous to risk ruining. So since it's summer, make the best choice of your life and go pick it up, because not a single person is exaggerating when they say this book is amazing.
To kick things off, Anna and the French Kiss has an exquisite setting. Okay, so Paris already has a huge hype surrounding it. It's not only the city of light, but the city of love and yet I've never been that attracted to it. Not that I would ever turn down an opportunity to visit the Eiffel Tower, see the Louvre or go to Disneyland, because they're all things that I am determined to go. However, Paris never seemed to excite me as much as the prospect of New York or Thailand does. Anna and the French Kiss has undoubtedly changed that. TAKE ME TO PARIS PLEASE. Perkins executes her setting impeccably, cramming in every little detail that makes you feel like you could turn the corner and see the Notre-Dame in front of you. It came to life instantly, and I wish more authors would attempt to use international settings like this. There is a whole world out there, and often I feel like literature can limit itself to the dominating western countries such as the USA and UK.
To make things even better, the characters were little gems of their own. I was continually rooting for them, hoping that they would emerge greater than the problems they were facing. I also loved that there was a variety of personalities, and Perkins ensured that their situations were realistic too. For example, she didn't force an ending where all the high school couples are destined to be in love for ever. Instead, if it seemed like they would, it was completely natural and nicely contrasted with the fact that it unfortunately wouldn't be the same for all of those around them.
Furthermore, I feel as though Stephanie Perkins deserves a huge round of applause as she created Etienne St.Clair. I'm not sure I could thank her more, because he is literally the most perfect book boyfriend in the existence of books. What makes him perfect though is not that he is devastatingly gorgeous, or that he would order breakfast for you since you don't speak a word of French. The truth is, Etienne didn't always make the right choices and didn't have much luck in the father department either, but he and Anna kept moving through it. And what I love the most is that they proved they could recognise their wrongs and figure them out so they could be put right. In short; I spent the whole book swooning,
To get to the point entirely, you need this book in your life. There is no other way to put it, but that I wish I had stopped moping around about which book to read next and had chosen it sooner. So stop thinking that you really should be ploughing through your TBR pile and instead get a copy of this as soon as possible, because what's a little guilt when you have pages and pages of Etienne St. Clair?