Hello Everyone!

I received this book for review from the lovely people at Hot Key Books! After meeting E. Lockhart, I finally picked it up and it turned out to be just as good as I had hoped!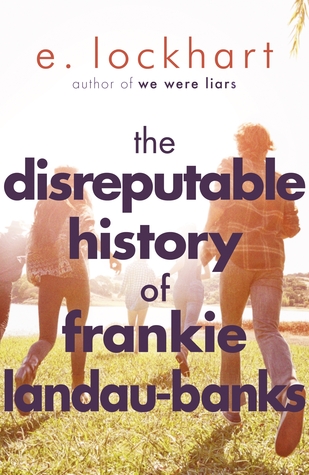 Title: The Disreputable History of Frankie Landau-Banks
Author: E. Lockhart
Series: N/A
Source: Publisher
Publisher: Hot Key Books
Published: November 6th 2014
No. of Pages: 342

Fifteen-year-old Frankie Landau-Banks has grown up a lot over the summer. She's no longer daddy's little girl - and almost immediately after starting the new semester at her highly prestigious school, she bags goofy-but-gorgeous Matthew Livingston as her boyfriend. They get along great but then Frankie discovers that Matthew is a member of a boys-only secret society that specialise in 'hilarious' pranks. Which hardly seems fair... especially when Frankie knows she's smarter than any of its members. And to prove this, she's going to teach them a lesson.

Impersonating lead member Alpha by using a fake email account is surprisingly easy, and soon Frankie is setting the boys up with all sorts of ridiculous schemes and sending them on wild goose chase after wild goose chase. Alpha's not prepared to lose face and admit it's not him sending the emails - but the fun can't last forever, and soon Frankie will have to choose between what she think she wants, and the reputation she deserves.
-(Goodreads)
4 stars: Page decides that this book was very enjoyable
however, it was not catapulted into amazing.
I met E.Lockhart at a Seven Stories event last month. I got all my books signed, and it was absolutely brilliant to meet her, along with all the lovely people who were at the event too! E. Lockhart was very friendly, and hearing all her stor
ies about drama camp or golf course parties finally pushed me to pick up The Disreputable History. She also mentioned it being a political kind of novel, which made me instantly go "oooo, why didn't I read this sooner!?" Now that I have read it, I wish that I had because it made me think so much and makes so many good points. Thank you to Seven Stories for organising the event! It made my day amazing being able to meet everyone and get my books signed!
Now to talk about The Disreputable History, I would 100% recommend you reader if you're a lover of statements and acting on your beliefs. It's a story of challenging that which we just choose to accept withing society, and it honestly just made me think, think, think. There are so many concepts and ideas that Frankie starts bringing up and challenging that I just felt the need to pour all my thoughts out on the matter too. It resulted in last week's post about The Oversimplification of Stereotypes, as this was something that did come up. In fact, Frankie's thoughts on how simple little stereotypes about different behaviour in men and women can lead to sexism led me to write the post, or should I say essay? I'm also planning to write another post about how hard it can be to stand up and make a statement about something you know is wrong, so as you can see, this story has left me empty handed.
I know that the first E. Lockhart book I read was We Were Liars, which I absolutely LOVED. Now, for anyone who may be wondering how this novel compares to Liars, I'd have to say that they are quite different. Whilst you could find some similarities in terms of characters, themes and more, don't expect to find We Were Liars 2 with this book. Liars has a much more explosive ending, and generally maintains a much darker, mysterious tone throughout whilst comparatively, The Disreputable History is explosive in a more subtle way. This is done once again through the actions Frankie takes against the hierarchical and patriarchal institutions she is against.
Due to all this, the entire book was absolutely wonderful to read, and I feel like more people should read it before dismissing YA as a genre without any thought provoking content at all. I did find that the first half of the book was slightly slow, as it takes a while for Frankie to actively start fighting what she disagrees with. I felt this with We Were Liars too, so I definitely feel like E. Lockhart's books aren't fast paced. That doesn't stop her stories being brilliant, however, so I recommend you pick any of her books up whenever you can!