Hiya!
Over my hiatus, I gave myself a little treat and finally picked up Snow Like Ashes which a) everyone had been freaking out about and b) I was pretty sure I was going to freak out about to. Before you ask, yes I did.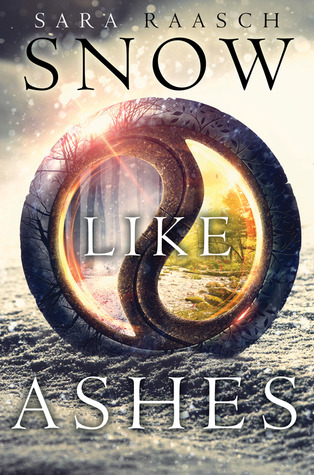 Title: Snow Like Ashes
Author: Sara Raasch
Series: Snow Like Ashes #1
Source: Publisher (Edelweiss)
Publisher: HarperTeen
Published: October 14th 2014
No. of Pages: 416
A heartbroken girl. A fierce warrior. A hero in the making.
Sixteen years ago the Kingdom of Winter was conquered and its citizens enslaved, leaving them without magic or a monarch. Now, the Winterians' only hope for freedom is the eight survivors who managed to escape, and who have been waiting for the opportunity to steal back Winter's magic and rebuild the kingdom ever since.
Orphaned as an infant during Winter's defeat, Meira has lived her whole life as a refugee, raised by the Winterians' general, Sir. Training to be a warrior—and desperately in love with her best friend, and future king, Mather — she would do anything to help her kingdom rise to power again.
So when scouts discover the location of the ancient locket that can restore Winter's magic, Meira decides to go after it herself. Finally, she's scaling towers, fighting enemy soldiers, and serving her kingdom just as she's always dreamed she would. But the mission doesn't go as planned, and Meira soon finds herself thrust into a world of evil magic and dangerous politics – and ultimately comes to realize that her destiny is not, never has been, her own.
-(Goodreads)
5 stars: Page the bird salutes this book, and starts
I finally took the plunge into a new Fantasy world with Sara Raasch's Snow Like Ashes and the sequel Ice Like Fire. I can safely say I am already tossing and turning with anticipation for book three BECAUSE I NEED TO KNOW WHAT HAPPENS. My review for Ice Like Fire will be up in September, exactly a month before it comes out in October- so keep your eyes peeled!
As soon as you open up Snow Like Ashes you will instantly be immersed in a brilliant world, but my favourite thing about the whole book must be the plot line. It has me smiling just thinking about everything that happened throughout the story, because Meira's adventures are not exactly fun, but they are exciting. There are castles, princes and balls, but there are also work camps, tyrants and the remaining people of the Winterians. For me, that was the latter that really seals the connection between you and the fantasy world you're reading about. It's an instant reminder of how much we rely on our countries, our nationalities and the people that share these patriotic feelings with us. It makes you think about the whole reason why we have days dedicated to celebrating the fact that we are part of our beloved country and why? Because we feel strongly that our countries make up part of ourselves. Due to this, I immediately felt empathy for the Winterian group Meira was part of and who were trying to gain back what had been ripped away from them. Straight away, this meant I was instantly invested in the story and trust me; it just got better.
That was due to the plot twist that brought Prince Theron into the story. That's another thing- Snow Like Ashes is filled with unexpected and sudden curveballs that get thrown at you. Of course, they do result in some sudden developments that just add to all the love I have for this book in general! Getting back to Theron, he has earned a special place in my heart. Sqquueeee! I loved him and yes, I was shipping him and Meira. A lot. If you read my Ice Like Fire review, you'll then be able to see that I spent pretty much the entirety of the book weeping about how much I loved them together.
Keeping with the theme of characters, I was also a fan of Meira- especially in book two, but you'll here more of that later since I need to keep my lips sealed. What I will tell you, is that Meira was brilliant at not letting anyone hold her back. If I just had to use one word to describe her to you, I'd say that she's a fighter because she doesn't give in even when others attempt to keep her back. I respect that a lot, because it's not an easy thing to do, so woooo go Meira!
Long story short, I cannot tell you enough times that you'll enjoy this, especially if you love the same kind of
fantasy books as me; those with castles, kings, queens and epic magic battles. Or if you're a fan of Sarah J Maas- that works too ;)