Hello!
I got this book during a bookish secret santa, and I've been saving it to read for Summer! Now that I finally picked it up, it's become another favourite and I would recommend it to EVERYONE!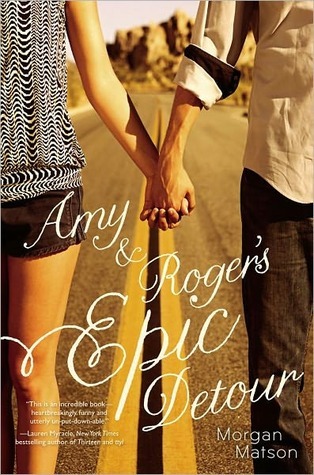 Title: Amy & Roger's Epic Detour
Author: Morgan Matson
Series: N/A
Source: Gift
Publisher: Simon & Schuster
Published: May 4th 2010
No. of Pages: 344
Amy Curry is not looking forward to her summer. Her mother decided to move across the country and now it's Amy's responsibility to get their car from California to Connecticut. The only problem is, since her father died in a car accident, she isn't ready to get behind the wheel. Enter Roger. An old family friend, he also has to make the cross-country trip - and has plenty of baggage of his own. The road home may be unfamiliar - especially with their friendship venturing into uncharted territory - but together, Amy and Roger will figure out how to map their way.
-(Goodreads)
5 stars: Page the bird salutes this book, and starts
Dear Amy & Roger,
Journeys might possibly be my favourite things to read about. Whether they are actual tangible 'journeys' or more quests of character and moral enlightenment, it doesn't matter. All I know is that there is something beautiful about discovery and exploration, even more so when you don't know exactly what you're looking for.
Therefore, Amy & Roger, I look upon your time as explorers with great zest. Sure, you may believe that everything has been discovered, whether it be by Vasco da Gama, Columbus, Hernandes de Soto or Magellan, but I vehemently tell you that is untrue. What is the point of life if we do not explore, whether it be great things that change mankind or everyday treasures. Every day is a new discovery, and the most fascinating one of all as, once again, it's a step into the unknown. Crossing 14 or so states is an adventure, but maybe what's important is not Yosemite or the brilliant fast food or the loneliest road in existence. It's what you found: that it was okay to buy sunglasses, that you could drive, that some people like to mess us up and are better forgotten, whilst others stay forever in our hearts. You found each other. If that's not beautiful, I don't know what is. You, Amelia.E.Curry and Roger.H.Sullivan, proved that, because you discovered yourselves: that is the most difficult discovery of all.
Oh, another thing you learnt: that it's okay to cry. We're not designed to be emotional straight-jackets, buckling every single tidal wave of emotion away. We need to talk and cry, to be sad for a while. If we don't, we end up spending so much energy on keeping it all in that we never get to laugh or remember things fondly. I think I cried the most when you realised that, Amy, because I finally saw you remember that "Tomorrow Will Be Better" and that you could and you would stand up straighter or quit being invisible like you'd gotten used to. For me, it was a hard job keeping my eyes clear of tears, because I couldn't stop empathising with your devastation. It was so vivid that I was wrapped up in the very fabric of your wandering story, feeling every emotion and seeing every motel and road like a picture. Little is better than a book that captures you like that.
Along with the discoveries you made about yourselves, Amy & Roger, I feel that the other people you found were treasures too. They told us that we need our homes, and if we can't find them we can make our own, whether they are people or countries. That we can always, always hope, because who knows what tomorrow will bring? And most importantly, they reminded us that even when it seems like you could never feel okay again, the one thing it takes you to smile could be found in the most unexpected of places. Or should I say journeys? They also taught us that just like ourselves, they have flaws of their own. Whether it be a brother who's filled with regret or a girlfriend who will never be able to stay, we need to try to understand them. Sometimes, we need to let them go, and that's okay.
Finally, Amy & Roger, thank you for your detour. For breaking the paths that were set for you and deciding for yourselves what you needed.
I'll see you later,
love Rita