Hello Everyone!

This was sent to me via Edelweiss by the lovely people over at HarperTeen, so thank you to them for allowing me to review it! It obviously turned into a cry-fest pretty soon into the book, but I really recommend you read it!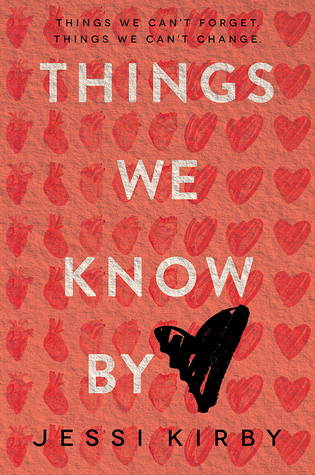 Title: Things We Know by Heart
Author: Jessi Kirby
Series: N/A
Source: Publisher (Edelweiss)
Publisher: HarperTeen
Published: April 21st 2015
No. of Pages: 304
When Quinn Sullivan meets the recipient of her boyfriend's donated heart, the two form an unexpected connection.
After Quinn loses her boyfriend, Trent, in an accident their junior year, she reaches out to the recipients of his donated organs in hopes of picking up the pieces of her now-unrecognizable life. She hears back from some of them, but the person who received Trent's heart has remained silent. The essence of a person, she has always believed, is in the heart. If she finds Trent's, then maybe she can have peace once and for all.
Risking everything in order to finally lay her memories to rest, Quinn goes outside the system to track down nineteen-year-old Colton Thomas—a guy whose life has been forever changed by this priceless gift. But what starts as an accidental run-in quickly develops into more, sparking an undeniable attraction. She doesn't want to give in to it—especially since he has no idea how they're connected—but their time together has made Quinn feel alive again. No matter how hard she's falling for Colton, each beat of his heart reminds her of all she's lost…and all that remains at stake
.
-(Goodreads)
5 stars: Page the bird salutes this book, and starts
Dear Things We Know by Heart,
I take a deep breath, open the first page, and I'm gone. Swept away with the unflinching cloud of grief that clings to the air. I continue breathing, each time allowing my throat to become more and more clogged with thick, salty tears and choking breaths. It's sharp and unforgiving, relentless and numbing. Pain. It kills even the strongest of us.
And as soon as I read your first chapter, TWNBH, Quinn's hurt radiated from the pages. Then I let it take me too, and I cried with her, picturing the red and blue flashing lights burning through my eyelids. Felt the petals being crushed under my palms, and knew it wasn't going to be easy. But I stayed by Quinn's side and started her journey with her.
Organ transplants aren't easy, in more ways than one. Emotionally and physically, they can illicit complete opposite feelings in different people. In one side of a town, a family could just have gotten the worst news of their life. In the other, another family could be getting the best news they've had in a while. On one hand, organ transplants are a gift to recipient. On the other, and as the book says, you "trade in death for a lifetime of medical management...".
Logically things shouldn't work like that, TWKBH. Sometimes, it would be easier if everything was black and white, if you could easily distinguish what is good and what is bad. But it isn't. Good can have bad, and the bad can result in good being found. If that's one thing I've come away with, TWKBH, it's that tragedy shouldn't be the end. Just like Trent's death couldn't be the end for Quinn, because Trent allowed Colton to live and eventually find love with Quinn too. That doesn't mean it's not hard. No, Quinn's constant turmoil and pain made that clear. Nothing is ever easy, but that doesn't mean you can't carry on and start bring the good back into your life, even when you thought you would never find it again.
The focus on hearts, TWKBY, is almost disarming. My eyes would run over your words, fighting to not let blurry tears stop me from understanding. And all the while, I was aware of my heart beating along with me as I flew through your pages, needing to have Quinn and Colton find the solace they deserve. It still baffles me, that whilst I'm not the one going through such awful experiences, their story could still hit me so hard. It almost feels wrong- what right do I have to cry? And yet it's as though I can't help but share their fears, worries and tears. That's the thing about reading; a book will bare its soul to you, and you will give yours right back and feel everything with all your heart. That's what you reminded me, TWKBY. That your heart is always with you, and I swear nothing can make you feel more alive and vulnerable than that. It's a frightening and enlightening thought all in one.
Still it pushes me to do exactly what you said, TWKBY, and make everyday that one really good day.
Thank you,