Hello lovelies!
During my time spent staring at textbooks, I did still manage to end up with a bit of a collection of books to review. Today, I'm going to review exactly two of them; City of Fae by Pippa DaCosta and Conspiracy of Blood and Smoke by Anne Blankman.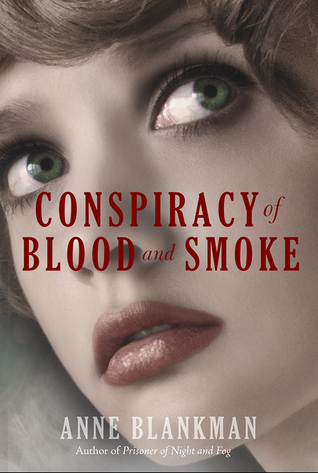 Lets start off with City of Fae which was sent to me by the lovely Bloomsbury, so thank you to them for letting me review it! Looking back, whilst I did enjoy this book, it isn't particularly memorable. It's the kind of book where I'm left thinking that yes, I liked it, but did it complete my life in a way that I would be lost with out it? To be blunt, no. Like always, I did enjoy the magical/fae aspect of the story, and there was always an aspect of mystery to it. In fact, several things were revealed that I wasn't expecting and this has to be commended because predictable books just aren't fun. What I think held this book back though was the characters. I didn't feel very connected to the characters or the relationships, and that prevents me from getting invested in the story. I need someone to root for, or even someone to hate with a burning passion! Yet none of that was provided and because of that I can't say I would recommend this, although you may like it better than be!
I had more luck with Conspiracy of Blood and Smoke, a sequel to a book I really loved. I was allowed to review this by HarperTeen (THANK YOU!) and it certainly did not disappoint. With a book taking place during Hitler's time in power, it's impossible to not feel disgusted by the occurrences throughout. This book does a good job of asserting the unfair and horrific tones of the time, and seeing how both Gretchen and Daniel are affected by the hatred and tyranny being spread creates a clear image of how damaging it was to live under such a rule. Furthermore, I love the inclusion of people who were a part of Hitler's life. They allow you to see on a deeper scale the emotional deterioration so much evil can cause, and at the end of the day, it's just a reminder of how a single person can ruin countless lives. Plot twists were rife throughout this story, I warn you, so be prepared to have your heart in your mouth a few too many times! Without doubt, I do recommend you read this if you're a fan of historical fiction- it's definitely one of my favourite books in the genre!