Hello Everyone!

I received this book for review from the lovely people at Indigo, so thank you to them for sending it to me as I adore Holly Black's books!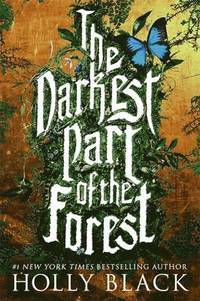 Title: The Darkest Part of the Forest
Author: Holly Black
Series: N/A
Source: Publisher
Publisher: Indigo
Published: February 5th 2015
No. of Pages: 328

Children can have a cruel, absolute sense of justice. Children can kill a monster and feel quite proud of themselves. A girl can look at her brother and believe they're destined to be a knight and a bard who battle evil. She can believe she's found the thing she's been made for.
Hazel lives with her brother, Ben, in the strange town of Fairfold where humans and fae exist side by side. The faeries' seemingly harmless magic attracts tourists, but Hazel knows how dangerous they can be, and she knows how to stop them. Or she did, once.
At the center of it all, there is a glass coffin in the woods. It rests right on the ground and in it sleeps a boy with horns on his head and ears as pointed as knives. Hazel and Ben were both in love with him as children. The boy has slept there for generations, never waking.
Until one day, he does…
As the world turns upside down, Hazel tries to remember her years pretending to be a knight. But swept up in new love, shifting loyalties, and the fresh sting of betrayal, will it be enough?
-(Goodreads)
I'm a big fan of Holly Black's books, particularly The Coldest Girl in Coldtown. I think there is just always something gothic and decadent to her stories that I can never stop loving. It just completely captures me and I can never quite get away from the worlds she creates. Whilst I wouldn't go as far as to say this book was better than my all time favourite mentioned above, it was nevertheless very good.
Personally, I felt that The Darkest Part of the Forest perfectly captured the fracturing of all things innocent. From the fairies we grow to cherish to the childhood games of playing knights and princesses. It was just all made obsolete, and in Fairfold, everything takes on a much darker tone. It just really plays with the growing topic that just like everything else, magic isn't as pure as you are first led to believe. What really strikes that home is Holly Black's use of having Hazel and Ben, the main characters, wanting to fight fae and monsters from an early age. It's just the twisted idea of children running around with swords with the aim of killing monsters that makes this book stand out from the first page, and everything you read seems to have an ominous shadow surrounding it. In Fairfold, there is no room for vulnerability or childish games, because there becomes a point when all the secret wishes and festivities become to real for anyone's liking...
One thing that you will notice is that this book is as tricky as the fae themselves. And that is saying something. There are many plot twists ready to jump out at you, it's honestly like walking through The Darkest Part of the Forest itself! That really creates a nice element of suspense, because it can be very easy to just read a book knowing exactly what to expect. With this book, however, I don't think I could have predicted anything that happened, which made it all the more mysterious and fun to read!
I do wish that I could have been more invested in the characters. With my favourite of Holly Black's books, I absolutely LOVED the characters -especially Gavriel- and this was very important for me. I didn't feel like I particularly liked Hazel or Ben, however. They weren't unlikable, but there was nothing new to them that made them stand out. For me, this was a little disappointing, but didn't stop me from enjoying the book.
On a final note, by the end of this book I did realise one thing; it teaches you that the darkest sides of things can be hidden, but that doesn't stop them from being there. Convincing yourself everything is fine or being blind to a situation will never help because until you fix something, all you want to avoid will remain. So go out there, take a leaf out of Ben and Hazel's book and take everything on!
Whilst I felt the characters could have been better, The Darkest Part of the Forest lived up to the quality of Holly Black's sinister, gothic tales. All in all, it was a very enjoyable read!