Hello Everyone!

Today I'm reviewing Out of Control, which turned out to be a really brilliant novel! It definitely didn't disappoint, so read on!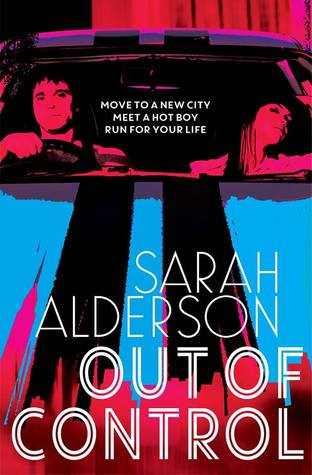 Title: Out of Control
Author: Sarah Alderson
Series: N/A
Source: Giveaway
Publisher: Simon & Schuster
Published: May 22nd 2014
No. of Pages: 320

When 17 year old Liva witnesses a brutal murder she's taken into police custody for her own protection. But when the police station is attacked and bullets start flying it becomes clear that Liva is not just a witness, she's a target.

Together with a car thief called Jay, Liva manages to escape the massacre but now the two of them are alone in New York, trying to outrun and outwit two killers who will stop at nothing to find them.

When you live on the edge, there's a long way to fall.
-(Goodreads)
4 stars: Page decides that this book was very enjoyable
however, it was not catapulted into amazing.
Wooo! I'm on a roll here but after reading and extract of Out of Control, I couldn't resist picking up another of Sarah's books. After all, they are so much more exciting than studying for mock exams, so I had the excuse of needing a little break, ahaha!
Over everything else, my favourite thing is that Sarah Alderson incorporated human trafficking into her book. Yes, it's definitely not an easy topic, but it is one that must be talked about and ended. To me, I also felt it showed that you can have the whole crazy-car-rides-and-hot-boys set up in a book, AND include topics that are important in today's world. For me, this is important as the world often forgets that educating and reminding people of important topics doesn't have to be in a classroom. In fact, a lot of issues that I'm passionate about first got me interested because of a story I had heard in a book or in the news. Out of Control doesn't even explore human trafficking too deeply, but just by mentioning it and making it part of the story, it's enough to make readers more aware. No matter how small the difference, it can mean a teen who picks up this book begins to research into human trafficking becomes so passionate about the issue and goes on to dedicate their life to eradicating it. Just talking about it helps, and I think this was a huge reminder of that.
At the end of the book, there are also some recommendations from Sarah about how you can help the fight against trafficking and also read up about it. I've already added two books she mentioned to my TBR list and I recommend you pick this book up just so you can learn a little bit more. I'm also directing you to the organisation Love 146 who I really recommend you go look at. The story behind their name is both saddening and poignant but they are working towards the abolition of Child trafficking and Exploitation. Their website tells you all about how they are helping survivors and working to end such a horrible thing, so please, please go a have a look. You'll be so thankful you did.
Even with the important subjects included, Sarah Alderson did not stray from her fast paced, thrilling novel, which was like a car chase itself! The best thing about it was that, like many of her other books, Out of Control did not stop going until the very last page. You will think everything is solved and then it's like: HAHA NOPE. FEEL SOME MORE PAIN. So yes, it is painful, but extremely awesome to read. ;)
In terms of characters, my favourite bit was Liva's hobbie, dance. I really loved the fact that Liva was a dancer (DANCERS FTW) because I can't remember the last time I read a book with a character who danced, and had the book not be about dance. I love that Liva had this little quirk added to her personality, because it made her so much more realistic, and you could tell how big of a change she was going through.
Out of Control is a book that I recommend if you're in need of an action-filled 24 hour story, but also paired with the real issues of today. So go pick it up!