Hiya!

I received this book for review via Netgalley from the lovely Simon & Schuster, so thank you to them for allowing me to review this!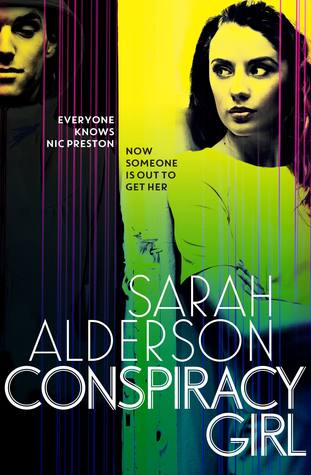 Title: Conspiracy Girl
Author: Sarah Alderson
Series: N/A
Source: Publisher (Netgalley)
Publisher:
Simon & Schuster
Published: February 12th 2015
No. of Pages: 320

Everybody knows about the Cooper Killings – the Bel Air home invasion that rocked the nation.
There was only one survivor - a sixteen year-old girl.
And though the killers were caught they walked free.
Now eighteen, Nic Preston - the girl who survived - is trying hard to rebuild her life. She's security conscious to the point of paranoia and her only friend is a French Mastiff bulldog, but she's making progress. She's started college in New York and has even begun dating.
But then one night her apartment is broken into and the life Nic's worked so hard to create is shattered in an instant.
Finn Carter - hacker, rule breaker, player – is the last person Nic ever wants to see again. He's the reason her mother's killers walked free from court. But as the people hunting her close in, Nic has to accept that her best and possibly only chance of staying alive is by keeping close to Finn and learning to trust the person she's sworn to hate.
Fleeing across a snowbound New England, frantically trying to uncover the motive behind the murders, Nic and Finn come to realize the conspiracy is bigger than they could ever have suspected. But the closer they get to the truth and the closer they get to each other, the greater the danger becomes.
To survive she has to stay close to him.
To keep her safe he has to keep his distance.
-(Goodreads)
4 stars: Page decides that this book was very enjoyable!
Conspiracy Girl was a reminder of why exactly I'll never get sick of Sarah Alderson's books. There is just so much thrill, so many conspiracies and epic romances littering the pages of her books that they become the perfect way to just lose yourself in a fast paced pursuit. Just go read any of her novels- you'll see exactly what I mean.
Who doesn't love a good conspiracy, right? They are very intriguing, and figuring out the pieces as you go along is a favourite habit of mine. With Conspiracy Girl, I don't think I ever had any clue who was behind what. Just as you think you've found the culprit, there is another evil guy around the corner and there were too many near-death experiences for the characters! It was literally danger at every turn, and a wrong step would cost them their lives. That's why I think Sarah Alderson always manages to have me in suspense, waiting to see what happens and what the outcome is. Even when everything seems to be lost, there is a new twist that brings back some hope and the best surprises along the way!
A good example of this came in Goz, Nic's dog. I get very emotional whenever animals are involved (I once cried at a book about a cat. It was very sad but a very good book, ehehe.) and I absolutely adored Goz. Nic, who after all her traumatic experiences had every right to feel paranoid and constantly fearful, made me feel pained for her because of how scared she was. Her scars were deep and you could really feel that just in the way she acted. Goz, her guard dog was so precious to her that for me it really showed just how animals can help and affect people. For some reason, this is something that I always notice!
As I did on Goodreads, the one thing I must do is thank Sarah Alderson for Finn. How is it possible that every time she writes a book I adore the guys in it!? Finn was incredibly sweet, gorgeous and just perfect for Nic! I also loved that we got to see his relationship with his nieces- I swear I could have melted there and then! He's just adorable and ahhhhhh!
Conspiracy Girl was a high-speed, thrilling chase with Sarah Alderson's signature gorgeous guys, and badass twists!