Hello Everyone!

Every time someone asks me for fantasy book recommendations my instant reply is Throne of Glass by the same lovely author. Now I have yet another amazing book to recommend- it is definitely a favourite! Thank you to the lovely people at Bloomsbury Children's for sending it to me for review!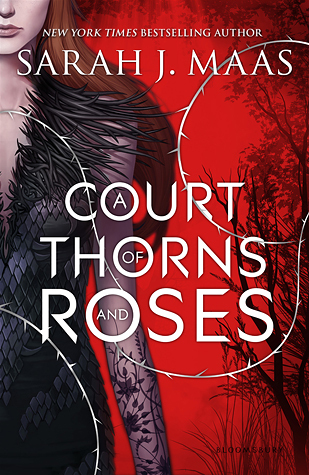 Title: Court of Thorns and Roses
Author: Sarah J Maas
Series: A Court of Thorns and Roses #1
Source: Publisher
Publisher: Bloomsbury Children's
Release Date: May 5th 2015
No. of Pages: 416
When nineteen-year-old huntress Feyre kills a wolf in the woods, a beast-like creature arrives to demand retribution for it. Dragged to a treacherous magical land she only knows about from legends, Feyre discovers that her captor is not an animal, but Tamlin—one of the lethal, immortal faeries who once ruled their world.
As she dwells on his estate, her feelings for Tamlin transform from icy hostility into a fiery passion that burns through every lie and warning she's been told about the beautiful, dangerous world of the Fae. But an ancient, wicked shadow grows over the faerie lands, and Feyre must find a way to stop it . . . or doom Tamlin—and his world—forever.
-(Goodreads)
5 stars: Page the bird salutes this book, and starts
SOUND THE ALARMS. RING THE BELLS. EVERYONE PANIC, BECAUSE SARAH J MAAS HAS A NEW BOOK AND IT'S ABSOLUTELY BRILLIANT AND IT'S ABSOLUTE PERFECTION. NO, YOU CAN'T STAY CALM. IT'S IMPOSSIBLE. A COURT OF THORNS AND ROSES IS TOO GOOD.
In case you start to get worried, a lot of this review will include notes from when I just finished the book. Anyone know what that means? You guessed it! CAPS LOCK! I will attempt to refrain from breaking my keyboard but... No promises.
THIS IS THE MOMENT WHERE I CROWN SARAH J MAAS QUEEN OF FANTASY. I didn't know it was possible for someone to write such a brilliant book. It's a fantasy novel and recently I just can't get enough of fantasy books. I just want to read them all the time. ACOTAR came at the perfect time as a result, and I was instantly captured by the fae world. Just when you think you're already being spoiled with a a magical fantasy, IT GETS BETTER.
You see, the writing is absolutely gorgeous. It was so brilliant that it could have been the perfect chocolate cake that makes your mouth water. The description and imagery was so, so rich that I was literally dying just reading it. If there was such a thing as #writinggoals , ACOTAR nails it.
I'll let you in on a secret, however. It gets EVEN better! The world building is perfect too! I could picture everything so vividly, and once again the imagery could have dripped off the page. Sarah J Maas did a fantastic job of creating such an impelling setting, and I'm itching to find out about all the different courts. I feel like there is just so much to find out and I'm thrilled this is a series because I can't get enough of it! While you're reading it truly feels like there is so much out there for the characters to explore- you effectively get a sense of the vastness and complexity there is in creating a new land. It makes for breathtaking reading.
The plot ended up being equally entrancing. Throughout the whole novel, until you begin nearing the end, you are kept in quite a bit of mystery. You don't really see the full picture till you actually hit the end, and OH GOSH THAT IS ONE ENDING. It's like a series of tiny spears being thrust into your hear all at once but it's also pure liquid gold in the sense that your heart will be ripped out and fulfilled at the same time. It's about as mysterious as the masks all of the Spring Court wears, and let me tell you- they are mysterious, but also such a brilliant concept!! *high fives Sarah J Maas*
Before I go any further, however, lets just have a moment of thought for how gorgeous, amazing and gorgeous Tamlin is. Oh my sweet little heart, move aside because he has shot to the top of my book boyfriends list. He's not budging. Nuh, huh. I swear I melted every single time he was even mentioned. If this was a film, it would have to be the most gorgeous guy in the world or nothing because this is Tamlin. And I love him. ;)
I am also VERY intrigued to see what happens next! There is an absolute world of possibilities and with characters that have such badass names, I have a good feeling it's going to be amazing. So go and pick this book up as soon as it's out!!
A Court of Thorns and Roses was just further proof to me that Sarah J Maas is a writing genius. She nailed everything from the plot to the imagery and the character names. I have so much love for this book! <3