Hi Lovelies!
This book was given to me for review via Edelweiss, from the lovely Balzer + Bray. Thank you so much to them for allowing me to finish off such a fabulous series! Also: just note how GORGEOUS all the covers are... :D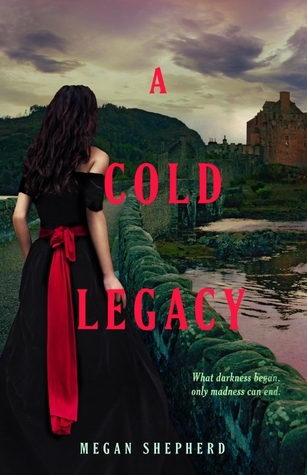 Title: A Cold Legacy
Author: Megan Shepherd
Series: The Madman's Daughter #3
Source: Publisher (Edelweiss)
Publisher: Balzer + Bray
Published: January 27th 2015
No. of Pages: 390

After killing the men who tried to steal her father's research, Juliet—along with Montgomery, Lucy, Balthazar, and a deathly ill Edward—has escaped to a remote estate on the Scottish moors. Owned by the enigmatic Elizabeth von Stein, the mansion is full of mysteries and unexplained oddities: dead bodies in the basement, secret passages, and fortune-tellers who seem to know Juliet's secrets. Though it appears to be a safe haven, Juliet fears new dangers may be present within the manor's own walls.
Then Juliet uncovers the truth about the manor's long history of scientific experimentation—and her own intended role in it—forcing her to determine where the line falls between right and wrong, life and death, magic and science, and promises and secrets. And she must decide if she'll follow her father's dark footsteps or her mother's tragic ones, or whether she'll make her own.
With inspiration from Mary Shelley's Frankenstein, this breathless conclusion to the Madman's Daughter trilogy is about the things we'll sacrifice to save those we love—even our own humanity.
-(Goodreads)
4 stars: Page decides that this book was very enjoyable
however, it was not catapulted into amazing.
Yet another series over, can you believe it! I've really enjoyed this series and to think I first began it when I started this blog is crazy... Almost 2 years, guys! I do think this was a good ending to what has been some slightly gory occurrences in the past books and I'm glad to see *most* of my characters make it to the end!
Choices. Ooooohh, there were so many choices in this books. Honestly, there were some terribly agonising ones and it's impossible not to read and have your heart go out to Juliet with every decision she makes. It was tense, but I've learnt to expect that as Megan Shepherd writes this genre incredibly. The whole series is dark and Gothic, but it also brings some great questions about humanity. One of the most interesting I found was the morals behind scientific experimentation. If there was the possibility to bring people back to life, A Cold Legacy instantly provides you with all issues there are. Is it selfish to do so? Is it even right? And perhaps, the bravest things you can do is to not toy with life at all... In turn, things are put into a very grim perspective in Juliet's world, and you can't help but realise that things are never as simple or easy as they seem.
I also adore the fact that A Cold Legacy was inspired by Mary Shelley's Frankenstein. I haven't actually read that classic, but this has made me really want to. I'm so interested in seeing how Shelley explores some of the similar themes. I will readily admit that despite not having read too many classics, I love it when books are inspired by them. It always encourages me to read those books and for some reason, stories always seem slightly more magical when they have hidden little elements of another tale in them.
For the final time, A Cold Legacy brought once again the question of how family impacts you as a person with another revelation that I found completely unexpected. There is a constant struggle throughout the books of whether your parents almost control how you are as a person, as Juliet is constantly afflicted by the idea she might inevitably become like her father. Many others give her the argument that you have a choice, and Juliet constantly questions where her actions will take her as a result.
Personally, I felt that Juliet's friend Lucy took on a much more important role in the novel. She gave an entirely new perspective to situations, often clashing with the views of other characters. Since she wasn't entwined with dark science like Juliet and Montgomery, she could be naive but the best part was watching her move past that further. She was no longer the girl who wore gorgeous dresses at the best parties. Lucy became fearless in doing whatever it took for those she loved.
A Cold Legacy was a great ending to The Madman's Daughter series. However, I am keeping my eyes peeled for whatever Megan Shepherd writes next!