Hello Everyone!

I received this book for review via Edelweiss from the lovely HarperTeen, so thank you to them for allowing me to review this! Eeeeeee - I loved it!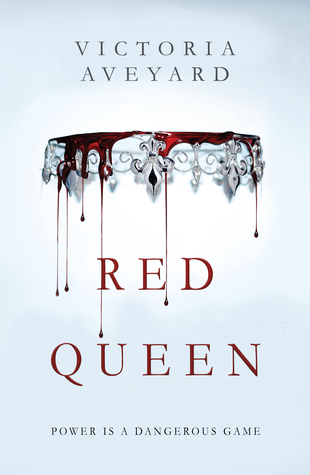 Title: Red Queen
Author: Victoria Aveyard
Series: Red Queen #1
Source: Publisher (Edelweiss)
Publisher: HarperTeen
Published: February 10th 2015
No. of Pages: 383

This is a world divided by blood – red or silver.
The poverty-stricken Reds are commoners, living in the shadow of the Silvers, elite warriors with god-like powers.
To Mare Barrow, a 17-year-old Red girl from the Stilts, it looks like nothing will ever change.
Then Mare finds herself working at the Silver palace, in the midst of those she hates the most. She quickly discovers that, despite her red blood, she possesses a deadly power of her own. One that threatens to destroy Silver control.
-(Goodreads)
4 stars: Page decides that this book was very enjoyable
however, it was not catapulted into amazing.
I've got the Fantasy book feels. It's offical. I just want to read all the fantasy books now, since I can't read the sequel to this immediately. THIS MAKES ME SAD I WANNA READ IT NOW. I just have all the feels and I'm desperate to find out what happens next. I need it. I need more feels.
I absolutely adored the whole concept and world of Red Queen. It's nothing that hasn't been seen before, but IT WAS SO GOOD. I was gripped instantly, and the only reason I put it down was because Physics and Biology revision was calling my name. I think it's the fastest I've read a book in a while, because I just needed to know what was going to happen next. You see, with Mare's situation (which I won't spoil for you) there is constantly an element of danger. Things can go wrong straight away, people can die, and I was kind of on the edge of my seat. I couldn't wait to see the outcome, and there are a lot of twists and turns. It made it a very exciting read, and eeeeee I just want to know more!!
One thing: prepare yourself for epic betrayal. I am such an idiot- I can never see anything coming which is why I then end up weeping on the floor. Red Queen literally screams BETRAYAL at you (though I don't want to spoil anything!!) so be warned. Your feels are not safe! And even when you think the worst has passed.... ahahahhaha. You're very wrong. ;)
It's quite hard to talk about all the feels without spoiling everything... But don't worry! I won't include spoilers! I quite enjoyed the romance in the book. Like always, my book boyfriend sensors were on alert, and I have a few worthy candidates. My small issue was that it did feel a bit quick... I wasn't entirely convinced by the romance, and I wish it had been explored in a little more depth? Overall, it was very enjoyable though and I was dying for a kiss!! Whether you get one or not, my lips are sealed... ;)
The characters were quite enjoyable too! I'm hoping that in the next book I get to see a lot more character development though. I'm not at a level of deep character attachment yet, but I think that as I read more of the series, things will get even better! I do have a lot of feelings on some characters, but I'm lying in what for a particular relationship I hope happens in the next book too!
Red Queen will leave you flipping every page like mad, and you won't be able to not talk about it!