Hello Everyone!
This was sent to me by the lovely people over at Hot Key Books! Thank you!! Wow, I did not expect that... It's traumatising, let me warn you. I hope you like the letter I wrote to it though. :)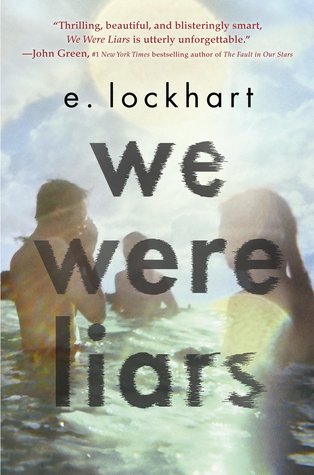 Title: We Were Liars
Author: E. Lockhart
Series: N/A
Source: Publisher
Publisher: Hot Key Books
Published: May 13th 2014
No. of Pages: 227
A beautiful and distinguished family.
A private island.
A brilliant, damaged girl; a passionate, political boy.
A group of four friends—the Liars—whose friendship turns destructive.
A revolution. An accident. A secret.
Lies upon lies.
True love.
The truth.
-(Goodreads)
5 stars: Page the bird salutes this book, and starts
Dear Liars,
You are the Sinclair family. You have blonde hair. You are beautiful. You have wide smiles, square chins and your tennis serves are aggressive.
You are broken
since that time
you started needing
to be normal.
Liars, you are disquisitive. A haunting, bereaving tale that leaves a bitter taste on the tongues of those who dare to digest your grand words. A spray of salt that lingers on the skin, an echo of adventures long past. You are a barely calculated jump from a high rock into a tiny opening.
But most you are
a story yet to choose
between grace and grief.
And yet, you betray your own self. Through the plated armour of narcissism, money and all the glittering jewels, you are crippled. A cry from a girl who tries to remember all the while needing to forget herself. You are crystals crushed and amber liquid spilt over marble counters- a shell of what should have been and the whispers of what is lost. You are deceit built on ashes of
colours not yet
ready to fade.
Liars, you are peculiar. Aberrant. Quaint. Not quite present and not yet gone. You are a puzzle whose pieces are searched for with desperation, lost to the knowledge they strayed many years ago. It is nothing I have ever read before, and through the tears and hitched breaths I know now
to always write on
both hands 'Be a
Little Kinder.'
But lucid, flowing energy are your words. Reminders of a palette of colours, each painstakingly painted onto the crisp white pages. Greens, blues, purples, blacks, yellow, orange, red and black again. Black for mourning. For the words you do not see coming even whilst they stare
you in the eyes
and refuse to be
extinguished.
And Liars, dear Liars. You are pure shock. The ripping of ice through veins as every morsel of me freezes and I wonder why. Whether there is blame to pour into souls or whether those who seem to have it all must always have a reason to fall. Whether fate cannot let you be Sinclairs, with wide smiles, square chins and tennis serves aggressive. But I do not wish to state that for I
know that Gat,
ambition and strong
coffee would refuse
to agree with it.
But maybe, it was always there. Maybe it was the blackness gnawing at the edges of the perfect picture. Contaminating the water and lacing the food and curling around every single little good and strangling it. Maybe, dear Liars, it was you. You who had not a choice but to succumb to the inevitable. And maybe it was avoidable. It was the one thing that should not have happened no
matter how broken
you all had to be.
Yet, Liars, you are irrefutably gorgeous. An impression of prose that refuses to go, that stays and sings its story to the hundreds. And I shall always be glad I stood witness to your art, not matter how many trails of salt remain on my face.