Hello Everyone!
MY FEELS HAVE COME RUSHING BACK IN A TIDAL WAVE HELP. My sister bought me this for Christmas (THANK YOU, INES!) now I am back to rolling in my love for all things Shadowhunter. Okay, yes, I do have a book hangover.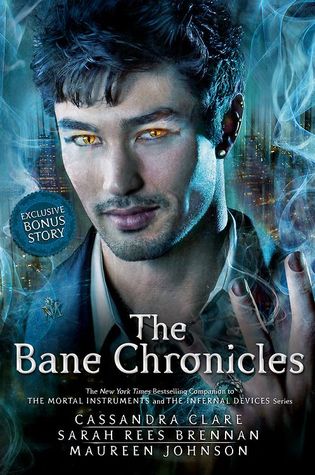 Title: The Bane Chronicles
Author: Cassandra Clare, Sarah Rees Brennan, Maureen Johnson
Series: The Bane Chronicles #1-#11
Source: Bought
Publisher: Margaret K. McElderry Books
Published: November 11th 2014
No. of Pages: 528
Fans of The Mortal Instruments and The Infernal Devices can get to know warlock Magnus Bane like never before in this collection of New York Times bestselling tales, in print for the first time with an exclusive new story and illustrated material.
This collection of eleven short stories illuminates the life of the enigmatic Magnus Bane, whose alluring personality, flamboyant style, and sharp wit populate the pages of the #1 New York Times bestselling series, The Mortal Instruments and The Infernal Devices.
Originally released one-by-one as e-only short stories by Cassandra Clare, Maureen Johnson, and Sarah Rees Brennan, this compilation presents all ten together in print for the first time and includes a never-before-seen eleventh tale, as well as new illustrated material.
-

(Goodreads)
4.5 stars: Page agrees this book was wonderful, almost
Ah, my wonderful little Shadowhunter world of feels. I'm now official enduring what is know as a Book Hangover- I love that world way too much and I NEED MORE. I also need Will Herondale and Jace to come and sit right next to me.
I found myself loving The Bane Chronicles a lot more than I expected. I didn't think it would make me feel the feels this much, but alas, it did. And now, I am in the process of going back through all the TID and TMI books, reading my favourite parts, and weeping over the fact that the first book of The Dark Artifices only comes out in 2016. 2016 WHYYY?
Anywho, let me warn you before you go scuttling off to buy this: I do not recommend reading this if you haven't read/finished The Mortal Instruments or The Infernal Devices as it contains MAJOR spoilers. Like the kind of spoilers that should be marked WITH BIG RED PEN. For me, this didn't matter as I found that I got to know even more about the characters I already loved and of course, I had already read the said series.
So why did the feels attack? Because, of course, THE HERONDALE BOYS CAME IN HOARDS and my poor heart couldn't take it. I just love them all, and seeing them in pain or upset makes me sad. When they do stupid things I get annoyed because GOODNESS THEY WERE RAISED BETTER THAN THAT and I'm honestly so scared for the future series because I can already tell SO much is going to happen! Also: Herondales = Gorgeous.
If you've read The Mortal Instruments and The Infernal Devices and LOVED it, I would highly recommend you read this. There a load of ancestors and descendants of our beloved characters mentioned, which can cause those emotional moments we all love, and it's so fun to hear stories you had never heard before! Since this is a compilation of novellas, you have stories that tug at the heart strings, others that make you laugh and smile, and you may even shed a tear or two.
The Bane Chronicles is a great collection of stories to accompany any lover of the Shadowhunter world. I highly recommend it!