Hello Everyone!
Thank you to Carolyn over at Penguin books for sending this to me for review! It's not everyday that I read a book that hits this hard, and I'm very glad I got to read it.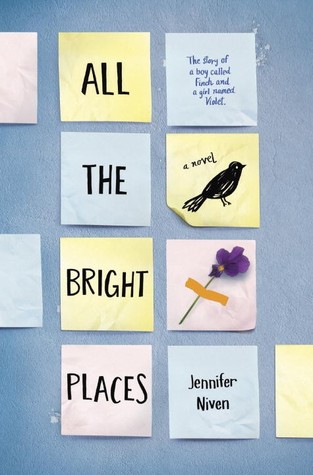 Title: All the Bright Places
Author: Jennifer Niven
Series: N/A
Source: Publisher
Publisher: Knopf
Published: January 6th 2014
No. of Pages: 384
The Fault in Our Stars meets Eleanor and Park in this compelling, exhilarating, and beautiful story about a girl who learns to live from a boy who intends to die.
Theodore Finch
is fascinated by death, and he constantly thinks of ways he might kill himself. But each time, something good, no matter how small, stops him.
Violet Markey
lives for the future, counting the days until graduation, when she can escape her Indiana town and her aching grief in the wake of her sister's recent death.
When Finch and Violet meet on the ledge of the bell tower at school, it's unclear who saves whom. And when they pair up on a project to discover the "natural wonders" of their state, both Finch and Violet make more important discoveries: It's only with Violet that Finch can be himself—a weird, funny, live-out-loud guy who's not such a freak after all. And it's only with Finch that Violet can forget to count away the days and start living them. But as Violet's world grows, Finch's begins to shrink.
This is an intense, gripping novel perfect for fans of Jay Asher, Rainbow Rowell, John Green, Gayle Forman, and Jenny Downham from a talented new voice in YA, Jennifer Niven
.
-(
Goodreads.
)
4.5 stars: Page agrees this book was wonderful, almost
I'm going to tell you straight off- this is not a book that you can analyse. You cannot weigh it's rights and wrongs. It's not an option, at least for me. At it's core, All the Bright Places is a raging wave of emotions. It will possibly rip you and scare you and show you light. And I am just going to do my best to try and put this radiant turmoil in to words.
This is a difficult book. Nothing it deals with is easy, but still it's done in a beautiful way where a dark situation is expressed amongst love and hope. It's not easy to get your head round at times, and you'll be left like I was: A tight throat and a stomach filled with butterflies, because it doesn't seem right. Not when you can't put your finger on this contrast of exhilaration caused by new loves and flowers and words stuck on walls. And then when that reason you couldn't quite get is exposed, it really becomes scary. Because it all seemed such a rush at first that breathed little promises that it would be okay, and now you finally see for what it was: the signs that it wasn't okay. And you should have known. All that hope that was built up? Part of it is left completely destroyed, and I think I was left questioning everything. Questioning whether you can ever really know from the beginning, when it was so easy to get caught up in a whirlwind.
And because of that, I couldn't stop thinking about All the Bright Places. I'm still trying to figure it out myself, trying to make sense of everything that happened. Because it's so easy to feel defeated, and to just wonder about that ending where tears stung my eyes but wouldn't let me cry. When that raging wave struck, it just left me stunned like all everyone else. And together, we're all still trying to pick up the pieces and work out what went wrong. I'm not entirely sure there is an answer.
At the same time, All the Bright Places can be breathtaking- it takes a while until everything seems to change, and until then it's almost bliss. It gives you the pleasure of watching one person profoundly impact another, to get them to begin one of the hardest things ever: moving on. It brings a shift in its pages, as Violet learns to live once more with Finch's aid and it opens up a world for them both. For a while, it seems unbreakable and it's so easy to just immerse yourself in all the new prospects that you see.
Violet is very broken at first. She's getting by, but All the Bright Places shows her embracing Finch's attempts to stop her from crossing the days of a calendar as she slowly starts to write again. Starts to wander and let herself truly go forward as she decides to no longer be stationary. With Finch, it's another story..
Theodore Finch is also extraordinary, but he's not okay. What is so frustrating, is it's extremely easy to not really think about that at first. He just seems different- someone who is constantly being different versions of himself and goes a little too far. Someone who's family is a little broken and who's dad is not an easy person. It's easy to think of him as unrestrained and dedicated to discovery, but it's the little too far that starts to niggle at you. It's dangerous and occasionally scary, because while you first think there is a reason yet to be discovered for the dark thoughts that cause him to go too far, it's not what you think. I never saw it coming but when you finally find out it matches up, and it's devastating.
This book won't leave you easily- you'll think about it days after you've finished. You'll read the story behind it, and then cry a little more. You'll weep in general for the powerlessness you feel. But you'll also have learnt, loved and yes, lost. You'll have seen those bright places we can give to someone, and realise that you can't always make them permanent. But like the famous saying goes: it is better to have loved and lost, than to never have loved at all. And I think All the Bright Places really grips the messy and confusing bits just as well as wonderous, energy filled moments of a story.
All the Bright Places is that kind of book everyone should read. It is difficult, and scary and wonderfully bright at times. At it's heart, it is so important and serves knowledge that we should all have in life. And hopefully, it can maybe even help those who need to make their places brighter.