Hello Everyone!!

I received this book from the lovely people at Bloomsbury, so thank you SO MUCH to them because this is such a good book that has blown away my feels and I love it too much. Wayyy to much. ;)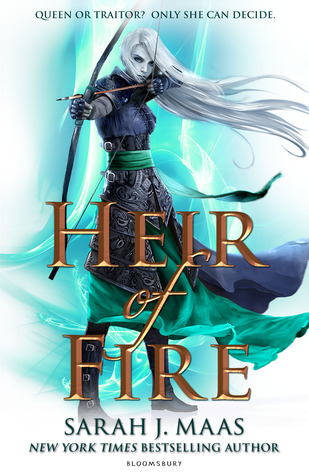 Title: Heir of Fire
Author: Sarah J Maas
Series: Throne of Glass #1
Source: Publisher
Publisher: Bloomsbury Children's Books
Published: September 11th 2014
No. of Pages: 562
Consumed by guilt and rage, Celaena can't bring herself to spill blood for the King of Adarlan. She must fight back...

The Immortal Queen will help her destroy the king - for a price. But as Celaena battles with her darkest memories and her heart breaks for a love that could never last, can she fulfil the bargain and head the almighty court of Terrasen? And who will stand with her?
-(Goodreads)
5 stars: Page the bird salutes this book, and starts
Dear Heir of Fire,
Wow. Wow, wow, wow, I am blown away. Speechless. Filled with a cocktail of humanity that contains so many emotions that my breath is taken away. It's been a while since I've felt this exact way, I believe. A while since a book stripped life to it's essence and presented it to me in such a heart wrenching way. A while since an author has caused me to wish for her skill with words to be recognised around the world. You, Heir of Fire, and your author, Sarah J Maas, have reminded me of why truly love to read: because every once in a while, you find a book that buries ihetself in your bones and refuses to move.
I don't believe there is a description for why you do this, Heir of Fire. It's simply that your words feel raw and human, like each one is alive to tell Celaena's tale. Then, there are her emotions: a raging hurricane of love, passion and courage that makes me believe in her, that makes her a dear friend as I watch her tame a heart-breaking storm into a sunrise emerging from the tip of the horizon.
The truth is, Celaena's journey is painful. It is filled with sadness that sets itself in your heart and an anger that is impossible to ignore. But it's also one of hope. One of watching a rose unravel beautifully and delicately, and then seeing it take on the world. Then when you compare it to what it was before, you can barely recognise the fragile thing that has become so undeniably strong.
But then, you, Heir of Fire, do not limit yourself to the story of one person. You speak for everyone who is ever lost, hurt, afraid and clinging on to hope. You show that even when the dark seems ready to consume everything, there will always be a spark somewhere, just waiting to be kindled into a fire. Sometimes, it just requires a little help.
So as a result, Heir of Fire, the inevitable happens: I can feel the hope of a nation resound in your pages, and I can't help but smile and wish for hope to spread like a wildfire, and for that evil dark to finally be defeated.
And like I said, Heir of Fire, you tell more than one journey, but that doesn't mean that they cannot be entangled with each other.
All the relationships in your pages, well, they're difficult. They're human. They accept that they will not all last for ever, that people come and go, that they continue loving even if it's not romantic anymore. They remind us that love doesn't always have to be romantic- friends and family can share a love that is just as strong. They show us that love is amazing, but it takes commitment and all the effort in our hearts.
I'm not even sure anymore what I actually want to happen with your relationships, Heir of Fire. I just know that I want happiness for each character, and I'm slowly accepting that I may be losing a couple I love. But like you have shown me, I will accept it and coninue to love whatever make your characters happy. It's what any reader truly wants.
But what I do know for sure, Heir of Fire, is that you have completely captured my heart, and filled it with inspiration. Because as I read on of your last sentences Heir of Fire:
"And then I'm going to rattle the stars."
I thought back to what Sarah herself had written in my copy of Crown of Midnight: "To Rita- Rattle the Stars!!" and then I thought to myself, Heir of Fire, I'm going to make a promise. One day, I'm going to rattle the stars, because I want to, because you have inspired me to. I'm going to rattle the stars like you have, Heir of Fire, because it is a wish and a dream that I am determined to make happen. And I sincerely hope that like you have capture a world with your words, I will be able to do the same.
Love, Rita xx