Hello Everyone!
I got this book from the publisher via Edelweiss so thank you to them for letting me review this! As the review will let you know, this is my first ever Kasie West book and.. the review will let you know what I thought. ;)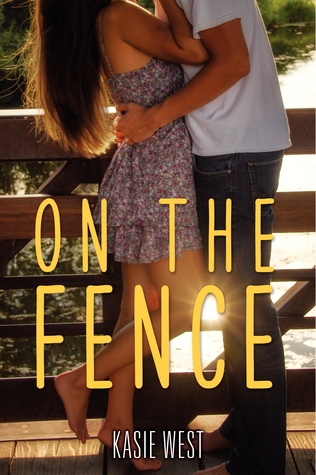 Title: On the Fence
Author: Kasie West
Series: N/A
Source: Publisher (Edelweiss)
Publisher: HarperTeen
Published: July 1st 2014
No. of Pages: 296
For sixteen-year-old Charlotte Reynolds, aka Charlie, being raised by a single dad and three older brothers has its perks. She can outrun, outscore, and outwit every boy she knows—including her longtime neighbor and honorary fourth brother, Braden. But when it comes to being a girl, Charlie doesn't know the first thing about anything. So when she starts working at chichi boutique to pay off a speeding ticket, she finds herself in a strange new world of makeup, lacy skirts, and BeDazzlers. Even stranger, she's spending time with a boy who has never seen her tear it up in a pickup game.
To cope with the stress of faking her way through this new reality, Charlie seeks late-night refuge in her backyard, talking out her problems with Braden by the fence that separates them. But their Fence Chats can't solve Charlie's biggest problem: she's falling for Braden. Hard. She knows what it means to go for the win, but if spilling her secret means losing him for good, the stakes just got too high.
(

Goodreads.

)
4 stars: Page decides that this book was very enjoyable
however, it was not catapulted into amazing.
I have never ever ever ever ever read a Kasie West book, but that doesn't stop me hearing LOADS about her writing wherever I go- and from what I can remember, it's always good stuff. This means I jumped at the chance to read On the Fence and what did I get? A very happy Rita. :D
The first thing that stands out to me about On the Fence, is it's many layers. I went into this expecting a romance, because it's so easy to assume that is all it will be, but by the time I turned to the final page I thought: 'You know, this is so much more than that.'
On The Fence is a tale of discovery, of finding out what really defines you, and of letting go. Once you finish this, that's when I think you really understand what you just read and that's when you sit back and think 'There is more to this than meets the eye.' What's even better though, is that this 'journey' through the book unravels nicely, and it's only near to the end that you find out the truth about something your curiosity will be on alert about.. ;)
I guess that in some ways I do wish there had been more romance, because I wanted a bit more of the lovey-dovey, fairies and glitter stuff however, I'm also kind of conflicted because I liked it just the way it was and it worked fine that way. It's also nice to have a breather from all the romance focused contemporaries out there- not that I don't love them!
Without doubt, my favourite part of the whole book was the talks by the fence. Like Charlie, I felt like the characters had their everyday selves and their fence selves which meant that these little talks presented whole new layers to them. Another reason that I really enjoyed these scenes was that I felt I got to know the characters in a deeper way. This was due to the fact that by the fence, the characters seemed to be stripped away of all their barriers and were quite vulnerable in those moments, allowing me to know them better. I think this is a detail that makes the characters become more 3D and allows then to develop better.
The talks at the fence were where I felt the characters expressed some of their inner thoughts which, now that I think about it, is a great secondary way to express the characters feelings without having a load of inner monologue. They were great scenes, and very useful to the story at the same time.
Whilst I didn't feel very strongly about Charlie, the main character, she did have certain attributes that I really liked and were interesting.
The first one has to be how she dealt with stereotypes. Charlie is typically labeled as a 'Tom Boy' because she doesn't wear make up, and is constantly around her three brothers and neighbour Braden. As a result Charlie was constantly struggling with stereotypes and what she wanted to do about them, so it was really nice to see her find a balance between them and realise that she can do what she wants, wear what she wants and real friends won't care. Opinions were something that I felt she struggled with throughout the novel, and when she finally let go of caring all about what people would think, things definitely got better for her.
The second thing basically relates to the last one, with the opinions and such. Once she realised all of the above, she also managed to realised that she is also allowed to veer off the expectations of people around her. She realised that she didn't need to conform to people's idea of her, and by the end, I felt that she had grown greatly as a character, and when you look back on how she was at the beginning, you can see the difference.