Hello Everyone!
You know those books that everyone loves and you take ages to read it, but when you finally do it, you're like: ASDFGHJKL EVERYONE WAS RIGHT. Fangirl is one of those books. And I love it!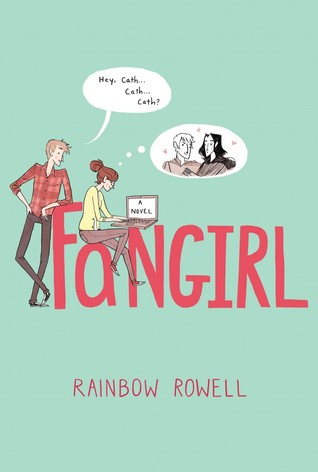 Title: Fangirl
Author: Rainbow Rowell
Series: N/A
Source: Gift
Publisher: Pan Macmillan
Published: September 10th 2014
No. of Pages: 461
Cath is a Simon Snow fan.
Okay, the whole world is a Simon Snow fan...
But for Cath, being a fan is her life—and she's really good at it. She and her twin sister, Wren, ensconced themselves in the Simon Snow series when they were just kids; it's what got them through their mother leaving.
Reading. Rereading. Hanging out in Simon Snow forums, writing Simon Snow fan fiction, dressing up like the characters for every movie premiere.
Cath's sister has mostly grown away from fandom, but Cath can't let go. She doesn't want to.
Now that they're going to college, Wren has told Cath she doesn't want to be roommates. Cath is on her own, completely outside of her comfort zone. She's got a surly roommate with a charming, always-around boyfriend, a fiction-writing professor who thinks fan fiction is the end of the civilized world, a handsome classmate who only wants to talk about words... And she can't stop worrying about her dad, who's loving and fragile and has never really been alone.
For Cath, the question is: Can she do this?
Can she make it without Wren holding her hand? Is she ready to start living her own life? Writing her own stories?
And does she even want to move on if it means leaving Simon Snow behind?
-(Goodreads)
5 stars: Page the bird salutes this book, and starts
My wonderful sister bought this for me as a birthday present. THANK YOU, INES! The best thing is, she got me the special edition, which brought with it AN EMERGENCY DANCE PARTY POSTER. HOW AWESOME IS THAT!? AS AWESOME AS THIS BOOK IS THE ANSWER.
You know what? I am kind of at a loss about what I want to say about this book. I just have no idea how I'm meant to make my thoughts coherent or convey the enormity of my abudant feels which could probably be used to knit a bobbly hat for the earth. Can you imagine that?! A BOBBLY HAT OF FEELS.
All I want to write is: OH MY GOSH, THIS IS BRILLIANT AND YOUR LIFE WON'T BE COMPLETE UNTIL YOU READ IT!! Maybe I'll attempt to point out all the bits that made me love this to pieces... That's a good idea. ;D
Firstly, I have to point out that Arianne was my go to fangirl for FANGIRL. So whenever I was outraged, in desperate need of gushing or close to passing out from all the swooning, I went to her. And I probably spammed her DMs about 1000000 times. I'm surprised she still copes with me.. You might be wondering WHY I was getting so worked up over this wonderful book. I have two words for you: THE CHARACTERS.
Yes, the characters! THEY WILL BE THE END OF ME. All the relationships between them were so intricarely woven that each page was a little thread coming unraveled that slowly allowed me to discover each and every detail of their personalities. It was wonderous to read about their loves, hopes and fears, and each chapter saw them becoming increasingly real.
Like I said, it was great to see how their relationships revealed their individuality and each character had me feeling more emotions than should be possible. To me, Cath was the perfect protagonist, Levi was the cutest book boyfriend EVER and Wren was such a driving part of the story with her personality being the complete opposite of Cath's. Cath and Wren's dad was also an instrumental part of the story as well as Reagan (Cath's roomate) and Laura (Cath and Wren's mother who they have no contact with) who I had an AMAZING amount of hatred for.
Speaking of all the characters and relationships, Wren and Cath's was the best in the terms of it it being so complex and distinctive. I personally found it very hard to sympathise with Wren, until a certain incident where I think she finally opened up her eyes. What I enjoyed about their relationship however, was that it wasn't perfect. They were at a time where the sisterly bond thing was obviously struggling, and though Wren did annoy me (A good thing- honest!) I felt like it kind of worked out for them because despite the fact that there was a point where they weren't speaking, they ultimately needed that time away from each other to learn to be their own person. I think they have to have one of my favourite sister relationships in YA.
I'm going to take a break from talking about relationships to mention just how much I loved the fanfiction aspect and all the extracts. It's kind of a surreal feeling to have a character write a book inside of a book. But do you know what was the best thing about it? It was SO relatable. Cath just gets you! She wears fandom shirts, writes fanfiction, has too many posters, goes to midnight showings, fangirls to no end and it's GREAT. FINALLY, we have a character that wouldn't think we were weird for creating random ships or plastering their face all over our walls! I think I could be great friends with Cath, and we could spend some great times writing fanfiction. I don't think she'd be keen on sharing Levi though...
Lets talk about Levi then... I LOVE HIM TO PIECES. He's just one of the best book boyfriends ever and I was constantly swooning. He's just perfect and I can't even begin to describe his brilliance. The world is a better place with people like Levi in it. To make him an EVEN better book boyfriend, I know that he would be willing to take part in any Emergency Dance Party. I'm going to have to make this happen..
Fangirl is perfection for Fangirls. Simple. ;)