Hello Everyone!
I got this book from the publisher via Edelweiss, so thank you to them for allowing me to review it!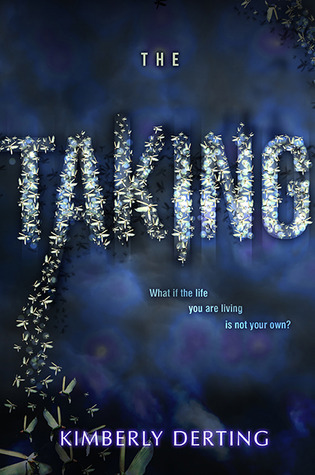 Title: The Taking
Author: Kimberly Derting
Series: The Taking #1
Source: Publisher (Edelweiss)
Publisher: HarperTeen
Published: April 29th 2014
No. of Pages: 357
A flash of white light . . . and then . . . nothing.
When sixteen-year-old Kyra Agnew wakes up behind a Dumpster at the Gas 'n' Sip, she has no memory of how she got there. With a terrible headache and a major case of déjà vu, she heads home only to discover that five years have passed . . . yet she hasn't aged a day.
Everything else about Kyra's old life is different. Her parents are divorced, her boyfriend, Austin, is in college and dating her best friend, and her dad has changed from an uptight neat-freak to a drunken conspiracy theorist who blames her five-year disappearance on little green men.
Confused and lost, Kyra isn't sure how to move forward unless she uncovers the truth. With Austin gone, she turns to Tyler, Austin's annoying kid brother, who is now seventeen and who she has a sudden undeniable attraction to. As Tyler and Kyra retrace her steps from the fateful night of her disappearance, they discover strange phenomena that no one can explain, and they begin to wonder if Kyra's father is not as crazy as he seems. There are others like her who have been taken . . . and returned. Kyra races to find an explanation and reclaim the life she once had, but what if the life she wants back is not her own?
-(
Goodreads.)
4 stars: Page decides that this book was very enjoyable
however, it was not catapulted into amazing.
This book is an example of me being a bad blogger: I should have read it ages ago, but I didn't, and it was left sitting in my kindle for quite some time. ALAS, I HAVE FINALLY PICKED IT UP, and I'm very satisfied that I did.
To get any bad things out of the way, the only criticism I have is that I felt I was left very in dark about the Aliens/Fireflies/whatever has been abducting stuff. The reality is, I have no idea what actually did the abducting, apart from the small the clues that have led me to believe that it's something to do with aliens. I'm on the fence about whether having such little information is a good or bad thing, but at the same time, I think that having more information would have given this book a better 'spine' of some sorts. Please yell at me if you have no idea what I'm trying to say.
Now that's out of the way, I have one point I need to make: This book is literally a guide of reasons stating 'Why Not to Phone Your Boyfriend When You Have Just Been Told You Have Been Missing For Five Years.' (OMG, I ACTUALLY ALMOST CAPITALISED EVERY SINGLE WORD IN THAT TITLE. OKAY. BYE.) It all ends badly, let me tell you. #ThingsIlearnedfromYA
It does end badly, but I'll also tell you that much hotter guys come along so... I'm kind of glad Kyra called him.. yeah...
I literally feel like I have got so sidetracked whilst writing this I should win a prize.. *looks at notes* Ah, yes. What I'm actually meant to be writing right now: I actually really liked Kyra's character, something that I was quite surprised at. I find that I'm actually quite hard to impress when it comes to characters (Most of them go in the 'Meh, I like them' section) so when I found myself agreeing with her emotions and feelings, I was quite happy as it made her much more relatable. I felt the same way that she did in relation to most of the other characters such as Cat and Austin (Who've I've just kind of blocked out..) as well as her parents and Tyler. <3
So, now the explanation for that heart next to Tyler's name begins. I'll quickly point out that if you haven't read the description of the book (above) you won't understand the situation. Well, I'm extraordinarily happy with Kyra and Tyler. This kind of stems from the fact that I'm (unreasonably?) angry at Austin so the fact that Tyler is hotter and his brother makes me evilly happy. I could literally throw a party to spite Austin. My Rage is so complicated. It's like my annoyance at Austin morphs into love for Tyler when I don't even have that many strong feelings about him... He is gorgeous though.. that doesn't hurt.. XD
The Taking provoked strong emotions towards characters, but I felt that the plot needed more information.
Bye! xx