Hello Everyone!
I got way more than I bargined for when I read this. Seriously: below is a review written by utterly-destroyed me, and you'll probably be slightly scared by the time you finish it. Anyway, thank you to the lovely publishers who allowed me to read this via Netgalley! As always, this doesn't affect my review. :)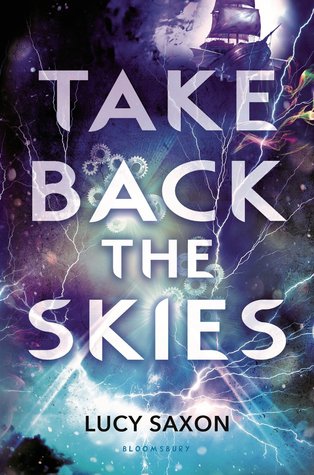 Title: Take Back the Skies
Author: Lucy Saxon
Series: Take Back the Skies #1
Source: Publisher (via Netgalley)
Publisher: Bloomsbury
Published: June 5th 2014
No. of Pages: 378
Catherine Hunter is the daughter of a senior government official on the island of Anglya. She's one of the privileged – she has luxurious clothes, plenty to eat, and is protected from the Collections which have ravaged families throughout the land. But Catherine longs to escape the confines of her life, before her dad can marry her off to a government brat and trap her forever.
So Catherine becomes Cat, pretends to be a kid escaping the Collections, and stows away on the skyship Stormdancer. As they leave Anglya behind and brave the storms that fill the skies around the islands of Tellus, Cat's world becomes more turbulent than she could ever have imagined, and dangerous secrets unravel her old life once and for all . . .
-(Goodreads)
5 stars: Page the bird salutes this book, and starts
GUESS WHAT. THIS BOOK HAS GONE AND WRECKED MY FEELINGS. WRECKED THEM. I HAVE NO IDEA IF I CAN EVEN FORM COHERENT SENTENCES. I AM UGLY CRYING AND I MIGHT AS WELL BECOME NIAGRA FALLS BECAUSE OF THE TEARS FALLING DOWN MY FACE. NO. I REFUSE TO BELIEVE WHAT HAPPENED AND I'M IN COMPLETE AND UTTER DENIAL. I HATE THIS BOOK. BUT I LOVE IT. THAT ENDING KILLED ME THOUGH AND I HAVE NO IDEA IF I'LL EVEN BE ABLE TO CONTINUE THE SERIES BECAUSE I CAN'T JUST GET OVER WHAT HAPPENED. I CAN'T. I'M JUST TOO UPSET. AND THEN THE EPILOGUE MADE THINGS EVEN WORSE AND MY FEELINGS HAVE BEEN DESTROYED TO THE POINT THEY DON'T EXIST ANYMORE. NO. I'M NOT OKAY. I'M SO NOT OKAY. THE ONLY REASON I'M GOING TO READ THE SEQUEL (even though this is an amazing book and I highly recommend it, it's just... sequels don't go down to well if I have to deal with a certain character not being there.. I'll explain it better one day.) IS IN CASE A CERTAIN SOMEONE COMES BACK TO LIFE AND IF THAT DOESN'T HAPPEN I'M JUST GOING TO CRY UNTIL I HAVE NO TEARS LEFT.
Unfortunately, I have a job to do, and that is to review this book, despite the fact that I can barely type through all these tears. I just had to get that out, because I am destroyed because of this book. DESTROYED.
So, this has to be one of the best science fiction books I've read in a while. I fell in love with the plot, the characters- EVERYTHING. I would marry this book if I COULD JUST MAKE THE LAST 10% VANISH.
The plot was adventurous and filled with suspense, which might not have been necessarily good for my feels. The 1984-style war was also really enjoyable and interesting. I also really enjoyed the Steampunk aspect, and I think that lots of other bloggers, as well as me, would dress up as these characters without a second thought. BUT THEN I MIGHT JUST START CRYING BECAUSE OFTHE REMINDER OF THE ENDING.
It's kind if funny, because I knew to expect a shocking ending (I actually had some great theories..)
but the ending I did get BROKE ME. That's two books in a row that have done that and it's getting to the point where I question why I offer my feelings up for sacrifice each time I read a book? I'm honestly distraught. I'm going to spend the next year pretending this book is a standalone and that the ending didn't happen. Then when the sequel comes out I'll read it for the sake of hoping that a certain characters lives once more. I refuse to believe that doesn't happen. LALALALALALA IT DIDN'T HAPPEN.
I don't want to give away who did die, so I'm just going to say that I LOVED THE WHOLE CREW OF THE STORMDANCER, which I did. They were probably the best family-but-not-by-blood kind of family ever and I WANT TO CRY ALL OVER AGAIN. I'm literally a mess right now. LOOK WHAT YOU HAVE REDUCED ME TO, TAKE BACK THE SKIES. Every single character made me feel like I knew them personally and by the end of the book, they were like my family too. Characters, to me, are one of the most important parts of a book, and I honestly feel like it's been a long time that a new book has got me so attached. If that doesn't scream AMAZING BOOK, I have no idea what does.
The main character, Cat, was positively badass because of her defiance of gender stereotypes. This book is set in the kind of society where girls are meant to be stuck at home, so seeing Cat constantly go against this and fight for her rights made the book even better. She never let herself get undermined by her gender, but at the same time she really drew attention to how girls where treated in that society by her need to dress up as a boy. It was really interesting and it just completed the book, for me.
I have so much hatred for one character, but I can't mention who because of spoilers... All I can say is that he's not evil but he keeps nagging at something AND I HATE HIM FOR THAT AND THE FACT THAT HE GETS WHAT HE WANTS AND I'M CRYING ALL OVER AGAIN. I APOLOGISE FOR THE INCOHERENT REVIEW.
Take Back the Skies has destroyed me, but I would highly recommend it as I adored it and have a lot of hope that my feelings might be restored in the sequel.