Hello Everyone!!

After reading this, I want to simultaneously hit and hug the person or thing that first told me to read this. TEARS, OKAY?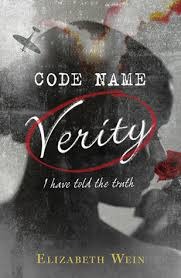 Title: Code Name Verity
Author: Elizabeth Wein
Series: Code Name Verity #1
Source: Library
Publisher: Egmont UK
Published: February 6th 2012
No. of Pages: 447
Two young women become unlikely best friends during WWII, until one is captured by the Gestapo. Only in wartime could a stalwart lass from Manchester rub shoulders with a Scottish aristocrat, one a pilot, the other a special operations executive. Yet whenever their paths cross, they complement each other perfectly and before long become devoted to each other.
But then a vital mission goes wrong, and one of the friends has to bail out of a faulty plane over France. She is captured by the Gestapo and becomes a prisoner of war. The story begins in "Verity's" own words, as she writes her account for her captors. Truth or lies? Honour or betrayal? Everything they've ever believed in is put to the test…
-(Goodreads)
5 stars: Page the bird salutes this book, and starts
Dear Code Name Verity,
You are one of those books that I am rather glad I invented a way to allow me to write a letter to, for I feel that I could never bear to place my scattered feelings into a heap and present it to the world. No, the tears streaming down my face chain me to the keyboard and I have to write. Like Verity, like Maddie. I have to write. If I don't I will find myself wondering why I stumble blindly into books like you, only escaping with a beautiful ailment to my heart.
These ailments, no matter how much pain or tears they cause, are still works of art. They are caused by my intricate awareness that as I first let my hungry eyes feast on your words, I was dead to the knowledge that you would soon hold my heart. That the stranger that was speaking to me through your pages would soon have a name and would somehow allow me spats of laughter despite the direness of the situation we both were in. That I would soon weep at the knowledge that even what we are told can change, your feelings can also refuse to take on any changes at all. It's a rare thing to happen, I find, but it did with both Verity and Maddie.
The first thing denounced to me by you, Code Name Verity, came from Verity. I AM A COWARD, she announced. That only made me love her more. She was different. So real, raw and so afraid. She thought so lowly of herself, but that never brought me to feel any hate or dislike for any part of her. In fact, I felt as though she radiated so much courage and so much defiance that I could not choose a better unsung hero than the one that lies in your pages, Code Name Verity. In turn, Verity continued her work of literature and allowed me the honour of meeting her best friend, Maddie. I do not feel it is possible to describe their connection, Code Name Verity. You are the one that betrays the love and trust that laced it. My words are only fit to say that it was an honour to be able to witness it.
Just as Verity left me sobbing with her account, you ripped me away from her and gave me Maddie instead. Only the discovery that I was feeling everything Maddie felt gave me any solace in my grief. It lit a candle, one who's flame stood unwavering in the strongest of winds. Hope in the dark. I allowed the girl who flew planes, the girl who was so fragile and so strong, the girl who only Verity had told me about lead me through the rest of your pages. Just as I thought we would all make it through to the end, where I would embrace both of them and thank them with all my heart, the candle blew out.
The culprit wasn't the wind. It was the screams of terror caused by people with a deluded idea of humanity. To me, I will always blame them, for crushing innocent souls and dreams, hope and love. For being the reason for why so many were gone too soon, and why so many lights went out at once. It is almost enough for a person to lose all faith in their own kind, were it not for the brave souls who keep relighting that melting candle.
Your words, Code Name Verity, tell me: "It's like falling in love, discovering your best friend." They make me realise that you are a love story, but what makes you different to others is that you are one of friendship, not romance. Perhaps, I have discovered one more friend in you.
Love,