First Loves Blog Tour: Wish You Were Italian.
As part of the First Loves Blog Tour, today I'm sharing a chapter one extract of the second book in the 'If Only...' series, Wish You Were Italian. I hope you enjoy it!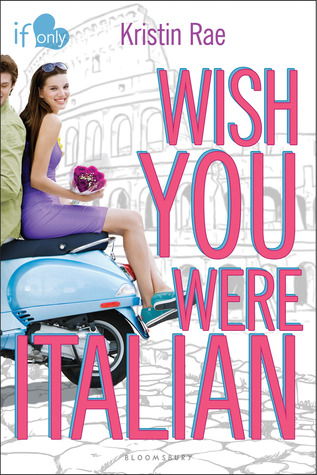 Title: Wish You Were Italian
Author: Kristin Rae
Series: If Only... #2
Source: Publisher
Publisher: Bloomsbury Children's
Release Date: June 5th 2014
No. of Pages: 323
Pippa has always wanted to go to Italy … but not by herself. And certainly not to sit in art school the entire summer learning about dead guys' paintings. When she steps off the plane in Rome, she realizes that traveling solo gives her the freedom to do whatever she wants. So it's arrivederci, boring art program and ciao, hot Italian guys!
Charming, daring, and romantic, Bruno is just the Italian Pippa's looking for—except she keeps running into cute American archeology student Darren everywhere she goes. Pippa may be determined to fall in love with an Italian guy … but the electricity she feels with Darren says her heart might have other plans. Can Pippa figure out her feelings before her parents discover she left the program and—even worse—she loses her chance at love?
-(

Goodreads

)
Read My Review and the Chapter Extract Under the Cut!
Chapter One Extract
A/N: I had to embed the PDF file into this post, so all you have to do is click the arrow at the top left corner to make the side-bar go away. Enjoy!
Review:
I had high expectations for this book after reading the first one in the series, Fool Me Twice. Thankfully, I had no need to worry (not that I did!) since the next instalment ended up being just as wonderful as the last.
I'm going to warn you here: You will get a chronic case of wanderlust just from reading this. Do you have any idea what it's like to be sat inside reading this on a rainy day when this book is set in wonderfully sunny Italy? It is a new form of torture.
One of my favourite things about this book was the setting. I adore it when books are set in other countries because I love travelling, so I got to go to Italy through Pippa. Loads of famous monuments and places where mentioned so I was constantly jealous of Pippa and her adventures. Hopefully one day I'll get to do the same thing myself!
Another aspect of Wish You Were Italian that I enjoyed was the presence of the journal Pippa's friend Morgan had made for her. It certainly is to blame for quite a lot of things that happened to Pippa- good things though, I think! It was a nice touch to the book because I always feel that any extra details that make for more storylines are really interesting in books- a big reason as to why I love maps and family trees!!
In a way, this book is quite deceptive. At a glance it can seem just like a book about an American girl in Italy, but the more and more you read you finally realise that there is more to it. Family plays a big part in this, and whilst I can't personally relate to Pippa's situation (And I'm exceedingly thankful for that- Love you Mum and Dad!) I am sure lots of people will. Towards the end of the book, the book turned a drastic turn that I definitely did not expect! Still, I think that this really worked as it allowed me to understand the characters much better!
Wish You Were Italian promises you chronic Wanderlust and adorable romance, with a well received amount of surprises!