Hello Everyone!
The lovely author gave me a copy of this book for review (After which I proceeded to jump with joy!) so thank you to Mila Gray (Sarah Alderson)! As always, this does not affect any of my opinions! :) Also, the cover hasn't been revealed yet, but I will update this as soon as it is!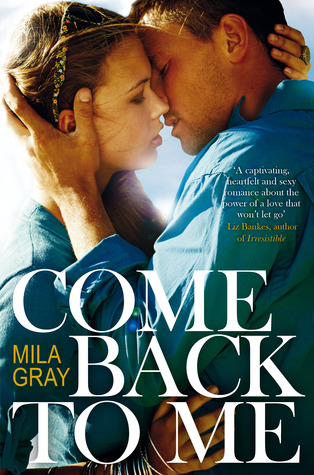 Title: Come Back To Me
Author: Mila Gray
Series: N/A
Source: Author
Publisher: Pan
Release Date: June 26th 2014
No. of Pages: 373
Home on leave in sunny California, Marine and local lothario Kit Ryan finds himself dangerously drawn to his best friend's sister, Jessa - the one girl he can't have.
But Kit's not about to let a few obstacles stand in his way and soon Jessa's falling for his irresistible charms.
What starts out as a summer romance of secret hook-ups and magical first times quickly develops into a passionate love affair that turns both their worlds upside down.
When summer's over and it's time for Kit to redeploy, neither Kit nor Jessa are ready to say goodbye. Jessa's finally following her dreams and Kit's discovered there's someone he'd sacrifice everything for.
Jessa's prepared to wait for Kit no matter what. But when something more than distance and time rips them apart they're forced to decide whether what they have is really worth fighting for.
.
-(

Goodreads

)
4 stars: Page decides that this book was very enjoyable
however, it was not catapulted into amazing.
Since Come Back To Me was the first New Adult book I'd ever read, I wasn't sure what quite to expect apart from the knowledge that I trust the author's amazing writing. However, I can now say that this novel gave me a lovely, if somewhat tearful, welcome to this new genre!
One of the things that I feel bloggers bring up a lot is that when books have multiple POVs, sometimes it can be unclear which character's point of view you are reading from. Because of this, it hit me straight away that I was finding it easy to keep up with the changing points on view. I felt that Kit and Jessa's voices where really distinguishable. You could easily tell that they were two entirely different people, and that they had their own identity in terms of personality, attitudes and character. It meant that I could easily switch between the chapters without any confusion and at the same get more and more sucked into the story.
Since we're talking about characters and personality, I really enjoyed joining Jessa's journey as her character developed. Jessa's attitude toward things is impacted a lot by the people around her, and an important part of this book is watching her break away from that. She definitely morphed from a caterpillar to her butterfly, and learnt to follow her heart- it's a lesson for us all, I think.
Her relationships with other people also developed a lot. There were ups and downs, and to me, that made it all the more realistic, because our relationships with people are like that: Someone can be your BFF one day, and the next make you want to tear your hair out. That's life, and Come Back To Me had that aspect down to the last detail.
Sooo.... Kit...GORGEOUS. I fell in love with Kit. He's half Portuguese
(which you'll know makes me really happy if you've read this post) AND he can make Pasteis de Nata. Excuse me, Jessa, step aside: I'm marrying this boy.
Don't worry, though- Kit is so much more than just a pretty face. He's caring, lovely and sweet, and I love his relationship with Jessa. In a way, they are such opposites but then they can't be without each other. It kind of reminds me of Yin and Yang.
If you end up reading this book (which you should totally do) I will warn you to expect the tears. Seriously. Just from the first few pages you will realise what you've got yourself into. I was in public so I had to stop reading so that I didn't cry. Then, I kept bursting into sobs at random points in the Epilogue.. Still, that is not an excuse for you not to read this!
Come Back To Me was the perfect introduction to the NA genre, with it's developing relationships, gorgeous guy, and tearful ending.